Impact
Radical Rogue.
Wild
seeds
from the same country where Ché met his destiny --
the Bolivia highlands
.
To listen to Colin Gasko of
Rogue Chocolate
talk about exogenous PPO (polyphenol oxidase) in the fermentation-drying cycle speaks to the obsession with which he & his comrades in the new American chocolate scene are tackling the premium niche.
If Europeans fueled the craft movement for the last half of the 20th century -- starting with
Bernachon
thru to
Domori
,
Coppeneuer
&
others
-- the energies have clearly shifted back to
chocolate's birthplace
in the New World during this millennium.
Micro-processors
in the USA are coming out of the woodwork, the garages, & the basement studios across the land.
This bar should have the vanguard screaming... be they screams of joy or terror.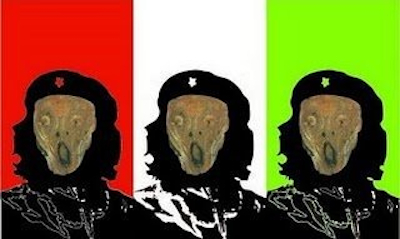 Ché wearing Munch's Scream. A realization of posthumously missing-out on Rogue's Silvestre?
Appearance 4.9 / 5
fit for the Metropolitan Museum of Art
Color:
indigo brown
Surface:
immaculate plank, save for a release mark in the middle & some unsightly plastic wrapper transfer; flawless backside... absolutely unblemished (virtually unprecedented)
Temper:
doubles as a mirror for applying make-up
Snap:
on the mark; perfectly sanded edge

Spot the Blemish? Maybe the Shadow?
Aroma 9 / 10
the whole hive (honey, comb, & beeswax) built off a sugar plum blossom -> toasted breadfruit
Mouthfeel 11.8 / 15
| | |
| --- | --- |
| Texture: | silken surface topography yields to taut microstructure |
| Melt: | elapsed |
Flavor 46.3 / 50
breadfruit 'n cream -> gradual acidity (plum to granadilla) -> background herbal (yerba maté) -> back bite of some mildly bitter tannin -> slightly alcoholic (the liner notes' 'jasmine', created by some residual astringency left from the ferment) -> re-ups plum -> almond skin -> wooded cocoa -> eclipses into true chocolate
Quality 18.1 / 20
Crafted in
Rogue's
new set-up, ditching some old vintage equipment for more modern technical proficiency.
The result is a higher degree of precision & definition. About the most evenly roasted of Rogue's bars to date.
Despite the breadfruit, nowhere nearly as leavened as other
Bolivians
(
Zokoko's Tranquilidad
or
Felchlin's Cru Sauvage
). Those hover around the
Semi-Dark category
. At 75% this weighs in heavier & more muscular (no added butter accentuates its structure).
Of all the exceptional
Benianos
to hit the market, this most closely identifies with
Oialla
. Though somewhat less dense & of lesser depth, it nonetheless shares those traits.
Moreover,
Silvestre
feels tight & wound-up (deeply conched in Taste & Texture); expressive yet quietly modest with an interior strength to belie the surface impressions. So squeezed as a Bach invention that only a couple of notes rearranged in the score could easily cause it all to go off kilter, wobble & spell collapse.
Perhaps because of that fact Rogue has been tweeting all over social media to attract a cult following that tracks its every latest batch. A shrewd marketing device to stretch the label's rather limited line-up. (NOTE: this review pertains to Batch 1; as of February 2011, Batch 3 was dropped to retailers.)
And that's the beauty of it: chaos underlying order.
Or is it the other way around?
Either way, Rogue's Silvestre re-assures that there's nothing entirely safe about
cacáo
in the wild.
ING:
cocoa mass, sugar
Reviewed March 1, 2012