Impact
So, a year on since director of sourcing & quality management Georg Bernardini left
Coppeneur
. Time to check in to see how the company emerges from his shadow & fares without him.
More than just
Domori
elected to downsize & streamline its catalog in 2012. Coppeneur follows suit. Gone are sundry origins & several upper-percentage bars, replaced by more accessible offerings for a wider market. Will this be a trend the world over? Certainly the vibrant American market defies any such curbing of the purist's appetite &, if
Zotter
is any indication, so too at least some European
barsmiths
.
As for Coppeneur -- a label that vaulted to the stratospheric heights around 2008/09 on the strength of due diligence, select
sourcing
& that German art of engineering which tallied close to a dozen masterpieces in its collection combining intensity with finesse of flavor -- the move marks a retrenchment of sorts. A re-positioning in the marketplace & a shift away from an obsessive, even maniacal, attention to detail in the pursuit of sensory peaks to one that now pays more mind to the business & the bottom line.
Such is often the story, whether in chocolate, art or life.
Scharffen Berger
, for instance, underwent a less grand evolution (because its portfolio carried nowhere near the gems of Coppeneur's). Just as Julian Schnabel's "plate paintings" broke thru & gave way to other visual interests (film primarily), a barsmith may be able to fixate for only 18 months or a couple years at a certain peak level before drawn into different areas that consume their time & energy.
While sad but true that the great ones come & go, be glad they came into existence at all. Catch them on the rise, stay with them at their best, & harbor some gratitude should any fall from ultimate grace in creating chocolate nirvana for humble mortal tongues.
That said & with all due respect, this bar reflects
les da machete en peso y precio
('cuts down the price & plays with the weight') so prevalent around
South
and
Central America
. A chocolate with all the hallmarks in which middlemen extract profits out of the negotiating price & discount weight to remain profitable.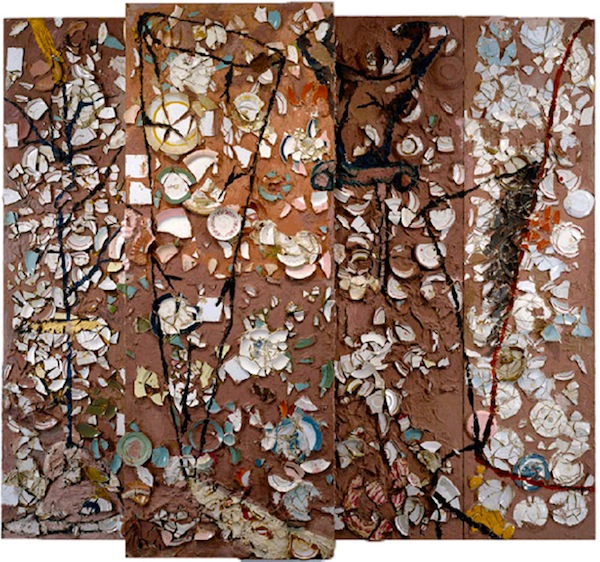 The Patients & The Doctors, Julian Schnabel (1978)
Appearance 4.7 / 5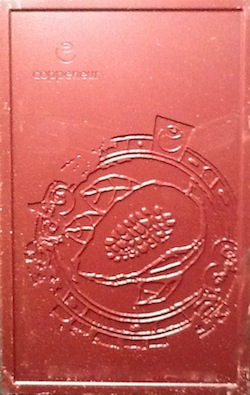 | | |
| --- | --- |
| Color: | violet brown |
| Surface: | with or without scratches, still among the most gorgeous in all of Chocodom |
| Temper: | B.A.D. (Bipolar Affective Disorder) -- a good condition in this case (matte on the flat portion / glossy in the design area) |
| Snap: | deafening for a 65% (quite tight to affect Texture) |
Aroma 9 / 10
CinnaBeer (Red Hots™ candy in pale ale) -> a fragrance less floral & more akin to artificial lavender wafting in from a perfumed powder room
Mouthfeel 12.1 / 15
| | |
| --- | --- |
| Texture: | resistant despite lecithin (or because of it) |
| Melt: | medium paced & no granules whatsoever (remarkable for 35% sugar content) |
Flavor 39.4 / 50
straight cocoa fighting a legume bean for supremacy -> chocolate holds the upper hand even as it ultimately loses out -> Oreo™ cream fill -> stone cement (backcross to the bean) -> metallic cocoa powder the after-linger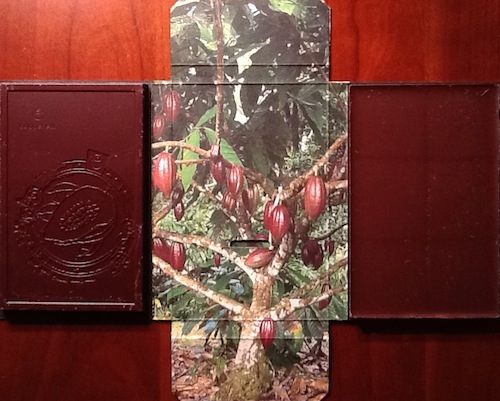 The Recto-Verso of Coppeneur's Républica Triptych
Quality 14.2 / 20
Neither florid nor floral as many
Ecuadors
are wont & a major drop off from the Aroma to the
Flavor
.
No dynamics whatsoever; the high & low notes utterly missing. Basically a flatline chocolate of staple quality. Where are the flowers, the sharp tannins, the body that made Ecuador's
Arriba Nacional
renowned?
So much
Naked profile
here to taste of a poor & cheap substitute for Lago Maracaibo cacáos in
Venezuela
(
Porcelana
, for example); seemingly if not actually vandalized with sugar, cream & cocoa powder. The last, grim shades of what
Alice
(whatever happened to her?) perpetrated against
Cru Sauvage
.
That indeed might be a clue to explain the name of this bar: could
Coppeneur
just be re-labeling or sharing sources at the very least with
República del Cacao
, shifting the accent over a little bit with more sweetener to generate a market friendly flavor?
The skinny on this fat bar: (35% sugar) + (stiff cocoa butter pad / melt without any grain) - (stripped flavor tags) = overly aggressive conching.
Altogether it signals both a change for Coppeneur as well as how far Ecuador cacáo has fallen from its former glories that it needs bandages & crutches. They cover over the
terra
to obviate the need for any vanilla. 'Pur' in Coppeneur's vernacular now means 2-to-1 (2 parts cocoa to 1 part sugar; click on bar image to the upper right) where in the halcyon days it equaled 100% cocoa mass -- as in
Iara Pur
.
Alas, the
cacáo trees
on Iara Estate exist no more. Locals cut them all down & planted palms for oil instead. An alarming development really, for if the opportunity costs are such that a prime property in the tropics with a willing & benevolent European client can't make it, then what hope is there for "fine chocolate" generally?
Likewise, Coppeneur has diluted-down a bar & a brand to standardized taste for the masses. So common that it should sell well.
Maybe profitable as a wise business decision; certainly gutless as a chocolate.
INGREDIENTS:
cocoa mass, sugar, cocoa butter, lecithin
Reviewed April 19, 2012