Impact
REDUX REVIEW:
What a difference a batch makes. In response to this review posted originally last month, Dana Brewster of Millcreek Cacao Roaster kindly sent a fresher sample for evaluation. Proof-postive that, clear as any cleaned window, a chocolate in good temper puts a shine on a bar in more ways than one.

The following contains a revised edit that reflects both versions.
******************************************
Now that overwrought comparisons to wine have ended up for the most part in the spitoon, matchmaker chocosseurs are spoiling for another companion. As if their fav flav can't stand on its own.
By its very name
Millcreek Cacao Roasters
draws parallels to coffee. Cocoa gurus point to the COE (Cup of Excellence) as a model for
cacáo
to escape its dirt-poor commodity status.
Chocolate however differs from coffee in many significant aspects.
show more »
show less «
Appearance 4.1 / 5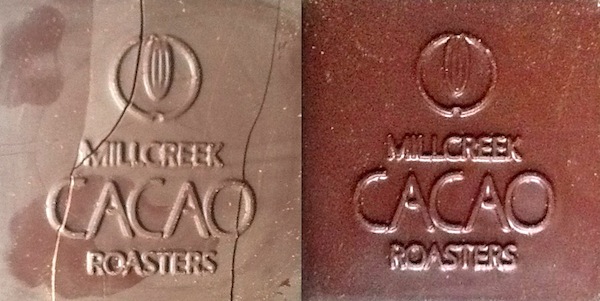 Tale of 2 Bars: Battered But Unbowed... freight issues / damaged in transit (left); putting its best face forward with a lift from better packaging (right)
| | |
| --- | --- |
| Color: | topsoil brown |
| Surface: | extreme makeover from early onset frosty-the-bloom-man to trophy / logo model |
| Temper: | cosmetic quality matte |
| Snap: | sizzles |
Aroma 8.4 / 10
theater bar-meets-amusement park in this grains-'n-flowers pack:
archetypal
Ecuador
(meadow green forest)
chocolate-dipped buttered-popcorn with cotton candied violets, all underscored in a nutty cauliflower accentuating pecans (the latter the influence of added vanilla)
unusually rare; flabbergasting in fact
Mouthfeel 12 / 15
| | |
| --- | --- |
| Texture: | somewhat off-temper & waxen |
| Melt: | discontinuous |
Flavor 46.2 / 50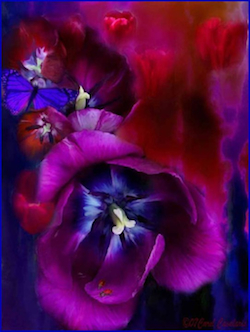 medium gauge blackberry-laced cocoa with those Aromatic floral perfumes crushed underfoot (not traditional
Arriba
jasmine or orange blossom but lavender) -> nut barrel (pecan, brazil nuts, even cashews) -> honey sweetens a fudge brownie studded with dried moraberry (superb) -> charred cookie dough sandwich -> modest bitter finger (gentian root) -> granite -> tannic cocoa syrup -> exhales ishpinga / cinnamon on the final breath -> latent jasmine vapors in the aft-length
Quality 17.5 / 20
When it comes to marketing
Ecuadorian-sourced chocolate bars
these days,
Arriba Nacional
often amounts to a default setting on the packaging. Most actually contain
CCN-51
however.
Evidently Millcreek, in conjunction with its on-the-ground partner Jeffrey Stern on the ground in Ecuador, performed due diligence on
seed selection
. It's been a while since a chocolate this classic has come out of Ecuador. Rather than hype, their claims taste verifiable with but only creeping hybridization in the germplasm.
Storage & transit woes in the prior batch marred an otherwise promising bar. The latest iteration suffers from no such ills. Just the opposite: sound craft permits genuine character to shine thru.
Inadvertently it also demonstrates that -- despite the distressed condition of the earlier, ill-tempered chocolate --
aging
endows certain benefits to flavor. For time allows chemical compounds to soften & round, letting them marinate amongst themselves & harmonize to a degree that fresh chocolate still has to develop.
And yet as with the old adage of 'youth vs. experience' battle, one may be wiser but there's no substitute for the other.
INGREDIENTS:
cocoa mass, sugar,
cocoa butter
, vanilla;
CBS
(
Cocoa mass / Butter / Sugar ratio
): ~2:3:2
Reviewed November 26, 2012
Revised December 12, 2012