Impact
Henri Matisse wisely abandoned his law career after taking up painting during an illness in 1890. His vivid use of primary color as a structural element blew Impressionism off its watery-dreamy canvases, rocking it with more Fauvist thunder.
So much so that Matisse's then-controversial
Nu Bleu
created a sensation at the pivotal 1913 Armory Show in NYC that it was burned in effigy.
This bar also smacks of being burned... twice (
once during the drying process & again during the roasting stage
).
But where the smoked-tainted seeds of
Cravve's bar from neighboring Madagascar obscure & distort
, make no mistake: Morin becomes Matisse-like with chocolate &
cocoa butter
as his acrylics & oils for paint.
Deligious
(a portemanteau of 'delicious' & 'religious') & dangerously close to the
List of Banned Words
.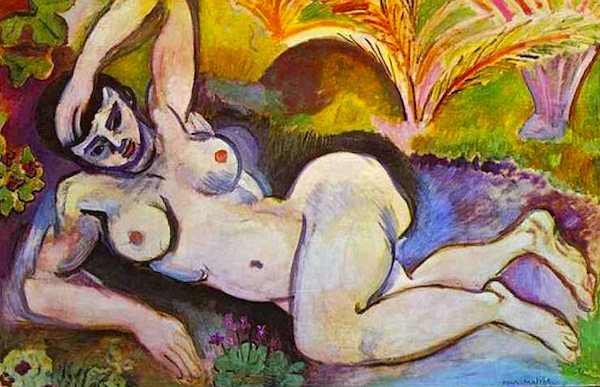 Nu Bleu, Henri Matisse, 1907
| | |
| --- | --- |
| Color: | medium brown with milky cast |
| Surface: | uneven pour |
| Temper: | opaque; small gleam in the eye |
| Snap: | cliff hanger |
Aroma 7.8 / 10
wood-burning oven with leather straps for hinges on the door
tea & tobacco in the environs -> mossy greens
cinnamon top
hmmm, fools of smoke from
Java
& the leguminous vines of
Ecuador
Mouthfeel 14.2 / 15
| | |
| --- | --- |
| Texture: | corpulent (heavy body / paste) |
| Melt: | great spread across the pal (palate) |
Flavor 46 / 50
re-confirms
Aroma
--
PNG
&
Indonesia
share both a landmass together & a need for controlled-smoke (sometimes uncontrolled) in drying their
cacáo seeds
; & that classic tell-tale PNG peat moss translate as
Ecuadorian
leguminous plants
instant chocolate lime -> barrel rolls into tobacco-tea & nuts with a smoke entrail (candle nut --
Aleurites moluccana
) -> the 3 (lime / tea / nuts) suspend like this... thru peat moss, then betel leaf -> thickens to what begins as a peanut legume unto full onset hazelnut butter cut by persistent acidity (a neo-gianduja with satsuma berries) -> leatherback finish
Quality 17.8 / 20
A couple seasons ago
Alan McClure of Patric Chocolate
leveraged
Madagascan cacáo's
inherent jelly character by tossing in some peanut butter. He cleverly dubbed the confection
PBJ
. People in the chocosphere went all
OMG
/ WTFudge over it.
Ingenious for sure but he cheated in a sense (adding peanuts) -- an unforgivable heresy to the New Puritans who preach '
cacáo
'n sugar' only & nothing else in their bar formulations.
Notwithstanding the additional
cocoa butter
& lecithin, which those same Puritans shall rail against, this bar is
au natural
in Morin's French vernacular. A genuine chocolate that goes beyond PBJ with a Euro spin (thanks to its intrinsic -- i.e., none added -- hazelnut tones) into a Nutella 'n Jam spread. This cacáo's acidity brings & keeps it all together throughout the length, masterfully unifying the mani-un-folding flavors in the progression.
So while
Tcho
runs around
the 4-corners of the globe
to tweak individual cacáo-origins for its separate
"Fruity"
bars,
"Nutty"
bars &
"Chocolaty"
bars, Morin pulls a recombinant ensemble of 'em all from a single source --
PNG
.
Texture
befitting the
Flav Profile
-- dives right into oral sex territory -- then serves up the ultimate
coup de grace
.
In other words, damn the Puritans, this is
pure
pornographic genius.
INGREDIENTS:
cocoa mass, sugar,
cocoa butter
, lecithin
Reviewed February 4, 2013