Impact
Fanorona
, the traditional
Madagascan
board game played with black & white pieces, consists of lines & intersections, creating a grid with 5 rows & 9 columns. A line represents the path along which a stone can move. They meet at weak & strong intersections. At a weak intersection, a stone may only move horizontally & vertically, while at a strong intersection it's also possible to move diagonally.
The objective: capture all the opponent's pieces.
Cacao Criollo
by
Rózsavölgyi
… a captivating chocolate board with its own black & white pieces. it takes down all opposing taste-buds with crisscrossing dexterity.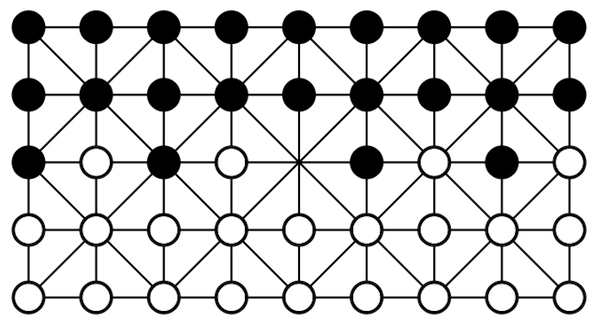 | | |
| --- | --- |
| Color: | light brown, almost baby pink |
| Surface: | newborn |
| Temper: | glowing |
| Snap: | neh, as in loud & hungry |
Aroma 9 / 10
cotton, slippery elm & hibiscus... unappetizing?
huh, a juicy sweet-spot centers it all, anchored by licorice-ylang
fine
Mouthfeel 12.8 / 15
| | |
| --- | --- |
| Texture: | brittle & slow release... |
| Melt: | ... rounds up to some fleshy buns |
Flavor 47.3 / 50
opens with a capturing move: white lightening -- juicy baobab, litchi, + marula (including its nutty seeds) -> white nuts (cashews & blanched almonds) -> turns yellow juju / gummy bear fruit (pineapple)... chocolate under foot -> dark (vetiver / vanilla / clove) offset (a light bittering adds dimension) -> butter intrudes to soothe like both a flavor & fabric softener -> grows darker still, really dark (black mission fig) yet sweeter (royal black mulberry) in a tricky maneuver which gradually fades to cream -> graham cracker bottom (in a sort of reverse sequence of
Åkesson's Criollo
of the same seed lot) -> cocoa wood (silver fir) x cocoa gem (quartz) -> conks out Zinfandel
Quality 18.5 / 20
The 4
th
bar now --
Bonnat
,
Åkesson/Pralus
, &
Domori's triumphal Madagared
the other 3 -- from a specific stand of trees in Sambirano Valley. So named here "Bertil's babies" after proud papa Bertil Åkesson, the main purveyor of
Madagascan cacáo
to
boutique barsmiths
around the world. He classifies them as
Criollo
.
Yes, Madagascar hosts some
verified Criollo
in its broad genetic mix. These particular trees of Åkesson have yet to be genetically tested however. Maybe Bertil's just 2 damn bizzy 2B bothered.
Whether they actually belong to the Criollo family or form some
cocoa myth-information campaign
awaits DNA analysis. Let's hope this happens with the
Heirloom Cacao Preservation Initiative
whose mission protects, propagates & promotes those rare
Theobroma cacao trees
endowed with special value —
historic
,
cultural
,
botanical
,
geographical
& moreover
organoleptic (flavor)
. In short, the diamonds of cacáo.
In the meanwhile, taste will have to do. DNA or no DNA, flavor is always the final arbiter.
Rózsavölgyi
nurtues these babes tenderly / lovingly. Moderate roast & methodical refining lets them sing out so cravers will cry out for 'more'.
Only quibble to the nibble: tough beginning in the
Texture
& subsurface depth never really plunges to the lower fathoms. Perhaps just as well for that might have built up so much pressure on taste-buds & against skull bones to explode heads off.
Ah huh, pressure can bust pipes or create diamonds.
High level
barsmithing
.
INGREDIENTS:
cocoa mass, sugar,
cocoa butter
Reviewed June 19, 2013