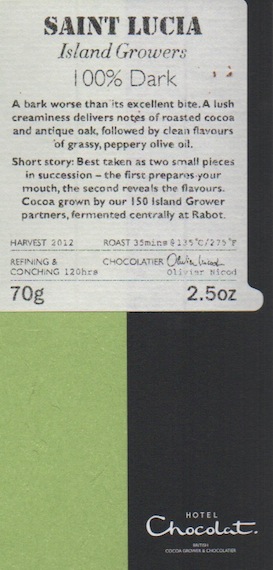 Impact
In 2013 Hotel Chocolat issued its initial Saint Lucia 100% (below) utilizing cacáo pulled from various properties on the island. A couple years later it followed with another unsweetened 100% from the label's own cacáo orchard – Rabot -- a bar (also reviewed below) that delimits the Flavor Profile by focusing on a single-estate.

The overall rating & metrics pertain to the original Island Blend only.
***********************************************
100% cocoa-content expels the bitterest-sweet fruit of all chocolate percentages. Nothing but the
cacáo pod's
natural sugar, broken down during the fermentation process into scant reducing sugars.
It symbolizes in some ways the well-chronicled if little-known
history of chocolate & slavery
.
Saint Lucia
experienced its own poignant part in it.
Around the
Caribbean
, that tragedy came in the wake of the precipitous collapse of aboriginal cultures -- just 50 years after
Columbus' arrival
-- a catastrophe with profound reverberations even to this day.
It colors, for instance, views & conceptions held by & on individuals, groups, genders, religions & races towards one another in everyday pedestrian encounters. Indeed these demarcations, divisions really, are big business. Ergo the media frenzy over them which then perpetuates cycles of prejudice & hatred.
show more »
show less «
| | |
| --- | --- |
| Color: | dark brown leaning toward purple |
| Surface: | veneer woodcut mold |
| Temper: | unvarnished |
| Snap: | pure |
Aroma 8.4 / 10
Island Blend
cocoa laminated in warm nut skins
tree sap / resins, including a little fermented residoo-doo which drops some tar
coconut hangs in the recesses

Rabot Estate
beautiful woodwork… chocolate woodlands really, with a subtle sour twist that approximates resin
Mouthfeel 13.1 / 15
| | |
| --- | --- |
| Texture: | heavy pasting |
| Melt: | plods along |
Flavor 44.8 / 50
Island Blend
deep cocoa loam -> soft bitter finger -> nut skins -> olive oil -> bitter black olive -> warms to roasted nuts & cocoplum kernels -> bitter metallic streak -> coursing black lava... all of the preceding offset by huge swells of avocado alternating with cocoa butter cream -> drives away on
cacáo
husks & old oak
Rabot Estate
solid chocolate entrance followed on by butter which precipates wax before the sour elements picked up in the
Aromatics
join a bitter insurrection… black 'n gray as a smoked gun barrel (pretty harsh)… yes, & where there's smoke there's fire lighting up tobacco -> topsoil-down worming into roots & spores
Quality 17.6 / 20
Island Blend
The 1
st
unsweetened from
St. Lucia
. Ranks right up there with
Grenada Chocolate Co.'s brut 100
for daring because both islands can be tough, rugged, & unforgiving terrain for chocolate flavor.
Hotel Chocolat's ("HC") own liner notes ring true, especially the olive component. And while the label claims no added
cocoa butter
, this chocolate rounds up so distended that, if true, then these seeds contain enormous fat content on average, possibly in the upper 50s to even 60% lipids.
Either way, 100% cocoa MASSive... those butter triglycerides check all the wanton & violent compounds to more or less behave in a civil manner, without which they would've rent the tongue out. Ditto the long 'n strong roast (35 minutes at 275ºF which these seeds take very well) & the
Coppeneur-level conche
(120 hours which winds a sturdy crystallization of those lipid molecules). The latter rubs out almost all esters that starves this bar of acids; literally beating this bar into submission... without breaking it.
Together they jab the taste-buds with pointed flavor tags, mini-stings, & retreat before another micro-assault. Far greater assertion, conviction &, for better outcome, guile than HC's other recent 100 -- the
Pichanaki from Peru
.
A totemic 100.
Rabot Estate
Lot No. 15219; Harvest 2013; Roast 30 minutes @ 125ºC / 257ºF; Conche / Refining 120 hours
Other than the opening frame, a baker's bar rather than a straight eating one, even after a fairly extensive processing (see parameters in the line above) which speaks to the genetic traits of this estate.
Wince-meat.
INGREDIENTS:
cocoa mass
Reviewed August 7, 2013 -- Island Blend; 2015 -- Rabot Estate