Impact
The message got picked-up in the middle of the night:
know anything about El Vigia cacáo?
Ahhh, yeah, something. And nothing.
Followed by some honor code that included everything but drawing blood to seal it.
Academic is one thing (the stuff of genetics; botany; cultivar; region; etc.). Practical another (never sniffed it; how does the damn stuff taste?).
Fortunately a well-placed C-spotter / informant in
Venezuela
filled in some further details on background. Better still, David Castellan & Cynthia Leung of
Soma Chocolatemaker
sent this, the real finished deal… what it all boils down to – the chocolate. For more, see below.
Gratifying to be in on the ground floor of this bar; & elevating is the penthouse suite of flavor.
| | |
| --- | --- |
| Color: | rose-cream brown |
| Surface: | fashionably distressed including pinholes in the corner pockets |
| Temper: | cool |
| Snap: | sharper than a spear point |
Aroma 8.7 / 10
big-sized seeds, big-sized scent
monster brown fruits (raisin / tamarind) & soursop atop a combustible mix of licorice, tar & nicotine in a jute sack stuffed with a haystack

potent
Mouthfeel 12.5 / 15
| | |
| --- | --- |
| Texture: | brittle break... |
| Melt: | ... requires some kneading if not teething (sorry 'slow chocos' who eschew the chew) |
Flavor 44.8 / 50
cold start (hard fat)... gradually develops those fruited Aromatics (add fig) -> cocoa-note plowed under by cocoa butter -> resurfaces among a spice rack centered around tonka beans... fumigates the senses with overpowering presence -> amber molasses -> momentary date -> brooding sorghum sap -> sweet nut meat (cashew) provides a lift before bowing out on iron
Quality 16 / 20
The area delimited as El Vigía (Municipio Alberto Adriani, Estado Mérida,
Venezuela
) is richly abundant in
cacáo lore
& sedimentary alluvial soil. In combination with the rest of the region (
Sur del Lago
), it sits within reach of 2 research centers (Estación Chama at Zulia & San Juan de Lagunilla in Merida). An underserved pocket compared to the glam coastal redoubts of Venzy chocolate &, given that it runs southwest & deeper inland, there might be some spontaneous (i.e., wild) or semi-spontaneous cacáo populations.
The Spanish in 1525 found cacáo woods around here harvested by early Americans. Soon the Euros started large scale agricultural production. A half-century later, exports to Veracruz (
Mexico
) via the harbor of San Rafael de Gibraltar thrived until around the 1670s when the port was decimated by buccaneers & aborigines in an uprising.
Fast forward to 1963 the Government Land Reform attracted new growers to the area who came mainly from the highlands of Mérida State. They colonized & settled, planting cacao selected for disease-resistance from the Eastern Venezuela (Paria Region).
Here they cultivate several
genotypes
– a mix of imports from Paria & native regional
Criollos
. This diversity includes
Guasare
(Northwest) in the Perijá Mountain range between
Colombia
& Venezuela). Clearly some crosses / diversity are evident even within strains that bear the same name but broadly grouped as Criollos.
Such gems are rare because only one or two thousand metric tons find their way to market per year. (As a yardstick,
West Africa
produces roughly 3 MILLION metric tons annually.)
These cacáos create a slow-developer that swells into a huge bar / a big-throated chocolate by Venzy standards, home to the omnipotent
Chuao
, the oft-gutsy
Ocumare
, & the staunch
Rio Caribe
leading on farther south to the equally stalwart
Amazonas
.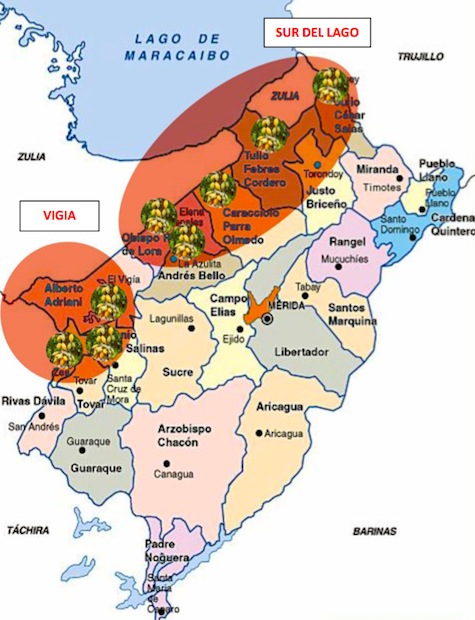 Soma
processes just on this side of preserving the traits relatively untamed. Its tough
Texture
early on gives way to incredibly round mouth, largely due to a helping of added
cocoa butter
.
The longest portion of the progression -- the extensive midsection -- is dominated by sweet sap & light molasses... the offshoot of those opening raisin-ous chemical compounds that occlude without altogether effacing the cream tones. Indeed, not since
Domori's
formative period has cashew cream been so identifiable, though at a different less fermented pitch here.
Ultimately, Soma's
El Vigia
sums up to a multifaceted & irrepressible chocolate -- one that invades & grows on you.
INGREDIENTS:
cocoa mass, sugar,
cocoa butter
,
Reviewed October 10, 2013