Wallerfield Estate
110%
Polochic Valley
Marañón Canyon
Café au Lait
Sapin
+more...
by
Palette de Bine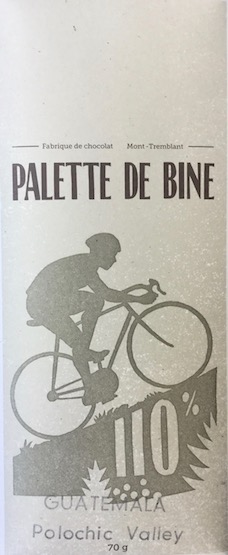 Impact
Walking the Americas...

Supposedly a Canadian man, found in Manaus (inside the Amazon rainforest), 5 years after disappearing from his Toronto home, survived on fruits, nuts, herbs & handouts from generous strangers during an epic 12,000 mile barefoot odyssey.

All just to find a library.

Really.

He could've stayed home, rode his bike to Mont-Tremblant where Christine Blais of Palette de Bine holds slope-side & ate these bars to save his feet a lot of miles.

Palette de Bine chocolate bars... from all over the Americas.
Color:
Wallerfield Estate: blushing
110%: definitional chocolate brown
Polochic Valley: dark raven purple
Marañón Canyon pink pewter
Café au Lait: brown tickled pink
Sapin: gorgeous sienna
Bines à l'Érable: sienna lite
Surface:
runway models on an airstrip runway takeoff (110%: studly...)
Temper:
lacquered (...110%: studded with Nibs)
Snap:
killer heartbreakers
Aroma 8 / 10
Wallerfield Estate
70% cacáo-content; a generalized Trinitario family genotype; Trinidad
rubber raisin bread
110%
100% cacáo-content; Blended genotypes; Lot #18; Polochic Valley, Guatemala
swap out the raisin bread (above) for spice bread + a besotted & dried fruit cake
fairy woodlands
Polochic Valley
85% cacáo-content; Blended genotypes; Lot #45; Polochic Valley, Guatemala
almost ineffable...
golden hay
sandstone
hops
tonka
saffron
Marañón Canyon
70% cacáo-content; Nacional genotype; Lot #020; Marañón Canyon, Peru
drupe fruit concentrate
as much sourdough flour as floral flower
clarified
cocoa butter
(call it 'chocolate ghee')
lite bark
Café au Lait
55% cacáo-content; Nacional genotype; Lot #025; Marañón Canyon, Peru
namesake disguised as mocha ice-cream
Sapin
70% cacáo-content; Hybrid (Amazon x ICS) genotype; Lot #08; Alto Bení / Upper Rio Bení Valley, Bolivia
sapling of a sharpness nearing sweet-pepper
Bines à l'Érable
70% cacáo-content; Hybrid (Amazon x ICS) genotype; Lot #40; Alto Bení / Upper Rio Bení Valley, Bolivia
starched maple sugar cube on grains & tubers (amaranth; potato)
Mouthfeel 13.5 / 15
| | |
| --- | --- |
| Texture: | shapely |
| Melt: | true |
Flavor 47.3 / 50
Wallerfield Estate
huge red-grape raisin dipped in semi-bitter chocolate -> turgid nougat caught in black sap molasses (excellent), converts to black mission fig -> inexplicable dairy clearance for the finale (think
Dark-Milk
; tremendous)
Big swinging chocolate -- full & loaded from the first impact to final throat-clearing drop.
Trinidad
in all its renown & glory.
PdB
does it up right dialing the controls. Superb taste craft. And a fab companion to
PdB's Gran Couva
from the same origin so chocolatarians can get intimate with this island.
110%
defies it
Aroma
& just ruts into a 'sroom patch (soiling thru woods ear, trumpet, black truffle & chanterelle) -> backed in sour tonic -> fine bitter cap
100% unsweetened + 10% Nibs = 1,000% commitment (sure, go on, double-check the math).
PdB
all up, all in, all out. Pure muscle bar. Those other unsweetened circulating around the chocosphere, virtual cotton candy. Take that.
Polochic Valley
fruit pop (plum), steadies under the weight of a cocoa-mushroom paté -> sweet tapioca -> flash fir to mint -> liquidambar -> cardamom -> gets savory moving into heavy unsweetened cream -> clears out blanched almond
Another well-behaved, high cacáo-content bar. Terrific composure. Same
Guatemalan origin
as the
110
(above) & the sour tonic therein catalyzes here to fruit at the front which lingers thru the progression, escorting fab complements along the way. Subtle to a degree; nothing tongue-wagging as in too excitable. Firm grace in strength.
Marañón Canyon
flash chocolate overwhelmed by apricot, nectarine & plum, the last building in magnitude as it effaces just the lightest spice until morphing into some dark tree sap -> clear tale-tell stringent grip on the finish
This one of the most studied
Marañóns
to date. Dialed to a somewhat dark countenance for 70% with denser notes than usual on account of exacting & extensive processing. A unique interpretation that abandons the typical delicate approach to this oft-fragile cacáo for a deeper, stronger take in the trace footsteps of
Holy Cacao
, among others. Revealing. Exceptional.
Café au Lait
Few dare produce a
Milk Choc
with Marañón (
Fruition
comes to mind). Fewer still a
flavored
Milk Choc with inclusions. And for good reason: the aforementioned delicacy.
PdB
adds Peruvian coffee to go along with this cacáo from the same country. So if anyone thinks it gets bowled over, well, yeah it does & all for the good.
A thick turgid affair -- both in taste & texture. Gone are the upper register packets this canyon cacáo is noted for. But not entirely forgotten as it seemingly contributes if not catalyzes a caramel of tremendous depth with a slightly tart edge. Call it a black coffee-toffee (sour) roll. Sure the milk & coffee are the main drivers. All the same the cacáo provides buoyancy to what might otherwise prove plodding / ponderous.
Not everyone's cup but a worthy one.
Sapin
dried-pine needles into guava & grenadilla -> caramelized marmalade (golden beautiful) -> fruit resin
Hi-beam balancing act. Spiked with Canadian balsam fir, the Xmas tree evergreen. Rekindles memories of
Soma Chocolatemaker
Douglas Fir truffle
. High craft.
Bines à l'Érable
soft maple -> guava & grenadilla, somewhat curbed, tempered & rounded in the mapleness -> beautiful clementine... long & rippling... -> orange-caramel
Years ago
le C-point
™ covered the premier of
Bines à l'Érable
featuring the alternative sweetener maple sugar. That bar utilized the
Trinidad Gran Couva
cocoa base; this iteration taps Alto Bení (same as the
Sapin
above to which it shares similarities). It took the world a little while to catch on to the exquisite nature of the cocoa-maple combo.
These 2 iterations between the Trini & the Bení are completely separate in
flavor profiles
except in one aspect listed in the original review back in 2015 worth repeating here:
Swaps out cane for maple sugar & in so doing mutes & curbs the magnitude of the chocolate but also sublimates the compounds into a forested honey of sorts. Amazingly it never, as so often the case, screams "maple" (presumably refined granules). Instead this subsumes the sweetener into the greater flavor complex.
Thanks to
PdB
's gentle hand(ling), It hold as true today as it did then.
Quality 18.1 / 20
PdeB
, destroyed by a fire in 2018, re-booted from scrap / scratch right across the street in an old ski shop needing lots of TLC. 6 months to rebuild. Install 3 simple pieces of equipment: a chicken rotisserie for a roaster, a winnower & a melangeur -- the latter 2 big stones with virtually zero flexibility. In sum, this setup doesn't allow for much precision. Nonetheless it's official: Christine Blais of
Palette de Bine
stands among the precious few as an iconic chocolate
barsmith
. Her skills abound.
The atelier she works out of in Mont-Tremblant attracts mostly skiers despite slopes usually covered not with powdered snow but ice-cum-glass. With
Palette de Bine
in the village, who cares what the conditions are on the mountain. This is a global chocolate destination.
The generalized
Flavor Profiles
feature an equalizing noble temper... beyond just Beta-V cocoa-butter crystallization, into an even-delta of moderation on roasting & churning. The lone exception in this collection being temperamental
Marañón
-- treated to a low & long heat curve + a day extra under the grinding stones.
Works wonders.
Reviewed July 10, 2019