Confection Bar Collection:
Capuaçu
Dark Milk
Chocolate ao Leite
+ multi-Brancos
by
Luisa Abram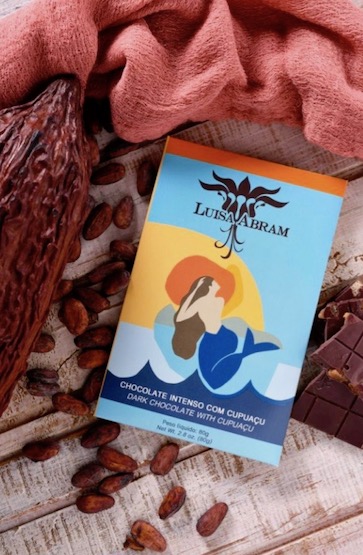 Impact
One of the most important figures in modern architecture, Brazilian architect Oscar Niemeyer pioneered the use of reinforced concrete. His buildings feature smooth curves quite distinct from those of his more utilitarian contemporaries. Think of those remarkable works in the creation of Brazil's capital, Brasília, including his design for the Presidential Palace & the cathedral (power goes hand in hand).
These bars rely on tried 'n true formulations but executed in creative ways for some distinct flavors.
Luisa Abram… the Niemeyer of chocolate?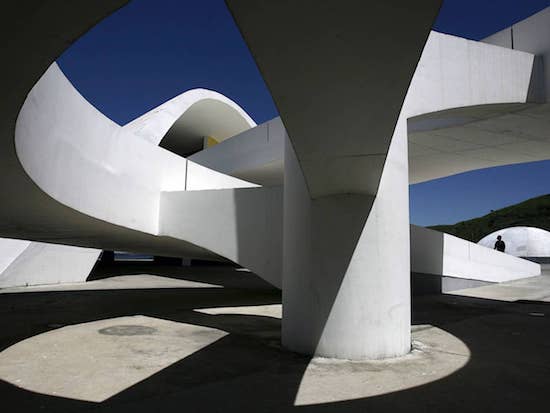 ****************************************************************
FULL DISCLOSURE:
the C-spot™ holds a vested interest in this venture. These bars therefore are unrated.
Color:
Capuaçu: orangeade
Dark Milk: pink-apricot
Chocolate ao Leite: the milk of a pink dolphin crossed by a unicorn
Chocolate Branco Extra Cremoso: porcelain lime
Branco Caramelizado: taupe
Surface:
a motley slew of bars with overhanging feet / flecks with dried candied fruit on the back / spangled
Temper:
a bit ill-tempered with flakes
Snap:
all's forgiven... sonic luv
Aroma -- / 10
Capuaçu
70% cocoa-content
a sweet 'dry white'... call it banana-prosecco -> honeydew -> lemon custard
Dark Milk
52%% cocoa-content
bakery-grade
MC
-- browned-butter / phyllo-dough cream puff
Chocolate ao Leite (Milk Chocolate)
40% cocoa-content
3-star Michelin Guide pastry-chef level
Chocolate Branco Extra Cremoso (Extra Smooth White Chocolate)
40% cocoa butter content
an arts & crafts studio replete with gypsum, clay, putty, spackle, rubber....
Branco com Castanha do Brasil (White Chocolate with Brazil Nuts)
40% cocoa butter content
a milder version of the
Branco
(above) that sums up a crocus in fine cabinetry
Branco Caramelizado (Caramelized White Chocolate)
40% cocoa butter content
Play-Doh
®
+ grilled butter
Mouthfeel -- / 15
| | |
| --- | --- |
| Texture: | wax chewy (Branco com Castanha do Brasil super tender exfoliating crunch) |
| Melt: | duralast |
Flavor -- / 50
Capuaçu
Botanical brother & forest friend to
Theobroma cacáo
(the tree from whose seeds constitute the key ingredient in chocolate), capuaçu (aka
Theobroma grandiflorum
) is instead harvested primarily for its delicious
pulp
.
Bringing them together here in this bar detonates a tropical cocktail... fruit flavors flying all over from banana to pineapple & melon doused in rum. A mouth party.
Tocantins cacáo
aligns neatly with Capuaçu to over-complement matters. Either upping the cocoa percentage or choosing a
genotype
with straighter
baseline
flavor to offset the brightness of the Grandiflorum would provide some bottom ballast.
Dark Milk
oh so steady... dense dark toffee brittle... just a whisper of fruit & chicle... rides strong & long, no wrong
Luisa A. just creams it.
Chocolate ao Leite
mellow golden caramellow -> cocoa butter saffron -> light hay
Chocolate Branco Extra Cremoso
birthday cake frosting pierced by thin lemon streak -> mild albumen -> rear vanilla bean
Branco com Castanha do Brasil:
a flavor quieter than its crunch (thanks to Brazil nut bits)... so very soft & pastel in its taste that the added nuts appear almost invisible on the palatte, the whole tapers to a wafer
Branco Caramelizado
vanilla frosting bends to fried waffle (excellent)
Ever since
Fruition
introduced
Toasted White
, this caramelized
White Chocolate
thing has become a thing. Indeed a good thing. A very good thing here. Midway / fun-way amusement park fare.
Quality -- / 20
Baseline cocoa sourced from
Rio Tocantins
,
Brazil
& crafted in-house. The
CB
(cocoa butter), grabbed off-the-shelves, hails from Pará, Brazil. The latter hits rather neutral on the palate. To compensate,
Luisa Abram Chocolate
lays down a nIce hefty cocoa butter weight (40%; most Whites weigh in the low 30s) then scavenged far & wide to find a milk powder to pick up the slack. They found it in a neighboring
South American
country & struck gold as in golden impressions with some intermittent caustic threads from the casein proteins in the milk.
A few highlights:
Chocolate ao Leite phenom in its overall bearing & light carriage -- full yet bouyant.
Branco a bit of a standard issue but less saccharine / more fulsome.
Branco com Castanha do Brasil: -- definitional sublime.
Luisa Abram
demonstrating some real skill(wo)manship.
INGREDIENTS:
cocoa mass, sugar,
cocoa butter
Reviewed May 29, 2020