Impact
Appearance 4.7 / 5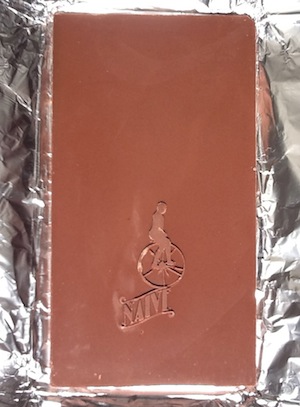 | | |
| --- | --- |
| Color: | pink Bermuda tan |
| Surface: | a looker... as in not supposed to look this good despite uneven pour, floppy over-extended feet on the mold + a few superficial imperfections |
| Temper: | doubles as a pocket mirror for applying make-up on-the-go |
| Snap: | plunks the test |
Aroma 9.1 / 10
evocative: old-growth forest (deep, dark & dense hardwoods) -> fungi all over (wild mushrooms, chanterelles, reishi, woods ear mushrooms) -> wet horse negotiating a passage thru this monster draft from the Lithuanian countryside... only a wispy tail of gianduia hints at a
Milk Chocolate
Mouthfeel 10.9 / 15
| | |
| --- | --- |
| Texture: | very powderful |
| Melt: | casual / languid |
Flavor 46.7 / 50
honest
Milk Choc
-> caramel cream jump-stops over a royal black mulberry, then resumes on its way to twisting into vanilla malt -> trace stringent grip (from some background limestone) contributes to more malting -> evanescent fruit pop (canned peach / mammy sapote) amidst the malt balls now raining down on the pal (for palate) -> outrageous aft-length: those tags in the Aromatics come thru as hickory-smoked porcini on leatherback
Quality 17.8 / 20
Tremendous constancy; very little variation... just enough to hold interest.
Message to
Shawn Askinosie & his CollaBARation partner Jeni of Spledid Ice-Creams
: this is how to malt a
Milk Chocolate
.
Judicious use of vanilla -- more than just waving the bottle over the chocolate liquor / less than heavy-handed -- adroit & ambidextrous.
While organic cocoa sometimes can be a hit or miss proposition, organic milk evidently works wonders.
In this case, straight from Naive's dairy farm which it operates alongside its chocolate studio. Wholesome & true, though perhaps lacking the creamed richness & hay notes of Alpine heifers so exalted in
Swiss
,
Italian
&
Austrian
MCs. In its favor it has something else going on (evidenced by the outstanding Aroma & after-taste).
Maybe the grass really is greener on the other side of the fence... that now-imaginary demarcation between East & West Europe. Whereas Swiss milk for chocolate-making is mild & often has malt added to it, whatever the cows feed on in Lithuania seems to help in developing a natural malt (with an assist from a leisurely & lazy conch which, granted, compromises Texture but leaves the overarching structure intact).
Bottom Line: lots of quality steadfast flavor.
INGREDIENTS:
cocoa mass, sugar, skimmed & whole milk powder, cocoa butter, vanilla
Reviewed May 29, 2012