Impact
E-troducing Ted Broman (whose family still calls him by his birth name 'Theo'). FULL DISCLOSURE: Theo's a bro of mine.
Ted serves as a trusted confidant in the treacherous world of dark chocolate.
For instance, he forewarned that Alain Ducasse
Dark Madagascar
tastes "very bizarre... of artificial cherry / Life Saver
®
"; the aroma a "cross between ripe gruyere rind & stinky socks; "gritty" Texture to boot; "dry finish". Continuing on: "Fascinating but not in the mood to buy it." Then sums up into "
Madagascar cacáo
often makes for one of the most feminine of chocolates. This Ducasse follows suit: the girls' locker room at a middle school."
Damn, Ted could post his own reviews that surpass everything else in chocolate cyberspace.... a place where supernovas of white melting cocoa butter streak across the firmament full of
dark matter that drips brown
instead of black.
the C-spot
®
often receives messages asking 'hey, have you tried the latest from this incredible new startup in business for 6 days?' Or comments like 'how come
The Chocolate Census
don't have bar X from maker Y?' (who's still pooping their diapers & cutting up their knuckles crawling around conche machines loaded with bloody chocolate). All such inquiries are routinely directed to
the C-spot's
®
2 kewl 4 skool review policy
, then kindly instructed to check back in a couple years to see if said maker is still in business.
But Ted stands out as a different breed. Instead of calling, he gets called. The guy comes across stuff others can barely conceive of; stuff so underground it's hard to get the scoop on. All of it uniformly good, or better. So deep into the scene is he that chocolate makers ask him what to make. Comparisons between Ted & a certain actor posing in Dos Equis beer ads are so eerily close that they could be the same person.
Despite the general axiom that the choc industry wears a smiling face in public & cut-throat behind closed doors, Ted possesses the mad-radical notion that chocolate can change the world for the better. How innocent yet inspiring, if a little insane, until remembering that chocolate already has done so a couple times over in
history
.
The above just a long-winded explanation that
the C-spot
®
reviewed plenty of
substandard Dark bars from the fledgling Ducasse imprint
that to add yet one more would amount to pile-driving a babe-in-the-woods against the biggest sequoia in the forest & bone crushing it.
So let's skip an in-depth analysis of Ducasse's Madagascar 75% (the aforementioned description of it will do; thank you, Ted) in favor of this happier prospect called
Madagascar Lacté Non-Conché
.
Appearance 4.6 / 5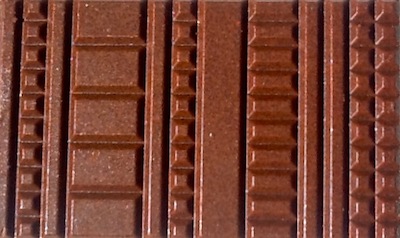 | | |
| --- | --- |
| Color: | golden brown topaz |
| Surface: | beautifully mottled... |
| Temper: | ... vinyl grain |
| Snap: | virtually none; porous edge |
Aroma 7.1 / 10
inviting
malted caramel, Ovaltine®, & mocha buttermilk
Mouthfeel 12.8 / 15
| | |
| --- | --- |
| Texture: | coarse micro-crunch |
| Melt: | a racetrack |
Flavor 44.3 / 50
light caramel in & around exfoliate sugar crystals -> rich, deeper caramel as salt & fat come more to fore -> almond butterscotch in a haystack
Quality 17.1 / 20
The less this label manipulates & engineers, the better the results.
Ducasse suspends the
barsmithing
for the most part & steps out of the limelight & out of the way of the components... again, for the most part. Finally a bar Ducasse can be proud of.
Overly-toasted (though short of burnt, none of
Madagascar's famed volatiles
which register even in a "raw chocolate") but because of the elimination of other steps in the processing chain (no conching ala
Taza
), this chocolate does not pay the price for excess roasting. In fact, it inadvertently benefits & morphs Madagascar into a
Venzy
-like countenance... the soft butterlicious tones & supple backbone... the spectrum of flavor here narrow if not a bit vacant -- other than that caramel.
Flavor centers so much on the unrefined sugar surrounding caramelization that It could be from practically
any origin
with almost no appreciable change in outcome. Beyond that, it might as well feature zero cocoa mass too -- i.e., just cocoa butter -- since it ghosts
Fruition's Toasted White
.
Such a conjurer belongs in the Unconched Pantheon alongside
Felchlin's Crudo
,
Idilio's Ocumare Crude
& maybe the Dominicans (
I
and
II
) of Taza if only for that oh so very oo-la-la French Poststructuralist construct: différance.
Anti-craft at its best.
INGREDIENTS:
cocoa mass, unrefined sugar,
cocoa butter
, fleur de sel
Reviewed July 12, 2013