Impact
Good contemporary poems in the American grain are filled with lots of 'dirty realism', poem as disguised memoir, more voice than meter & traditional devices. And there are occasional misfires that are more sentimental, self-serving or self-pitying than a bad blues song. But hey! Consistency is the key.
Such lyrical poetry reminds us where we are, came from, why we're here in the first place, beyond novelty, meme or latest greatest circumstances.
Take this piece by Barbara Crooker -- who has got to be the cold-eyed alias of Betty Crocker™. File it under chicken soup recipes for the bowl, with or without chocolate mole medibles, stuff to read before nodding off firestoned (or at least sober-drunk) for that cheery brand's next cookbook. Perhaps even bundled with
Masts
own cookbook released in 2013. Of course, few Americans cook anymore, they just heat up already prepared foods. Chances are, fewer still will get the gist & those who do will consider it warmly nostalgic. Ditto this bar
Dark–Crown Maple
bar.
Monopoly 1955
by Barbara Crooker
show more »
show less «
| | |
| --- | --- |
| Color: | amber brown |
| Surface: | chips, flakes, dust & other chaff |
| Temper: | grainy as a Jarmusch film |
| Snap: | weak & lame on the verge of infirm |
Aroma 7.1 / 10
sickly-sweet pig spit
ham bones & tones basted in a molasses rub (&, generously speaking, allspice) with musty maple
slinks into foam rubber before aerating a beautiful maple-bourbon &, inexplicably, melon
Mouthfeel 11.4 / 15
| | |
| --- | --- |
| Texture: | forecast in the Snap -- crumble cake (all on the Masts rather than any transit issues since this bar was cracked right on their factory premises) |
| Melt: | verklempt (the choked part without the emotion) as the fat curdles |
Flavor 36.2 / 50
oy gevalt
sour maple (citrus blaring to
Madagascar
-strength) clashing up against the alternative-sugar crystals -> settles into that molasses tank from the
Aroma
, including a fair smoking quotient (drifts of
Mast's PNG
)… so too the bourbon qualities (oak casks / vanilla) -> ages better as the bar melts deep into itself (with, finally, the first reveal that this hails from the Roig-brokered
Dominican Republic
) -> alas, astringency (rather
trademark Mast
) overtakes the promise of a fine climax -> moth balls out
Quality 12 / 20
Another unit of Mast production -- the 25
th
to enter
The Chocolate Census
.
A conflictive pairing in a line marching toward the indefensible. To develop such sour potency, smoke trails, & astringency requires a perfect storm of
source
& process (inconsistent roasting; insufficient refining; & incomplete realization). And that
Crown Maple
serves as a noble foil for some refried beans (
burkes
in the mother tongue of Polish) highlights the dexterity of
Mast
marketing.
Before anyone receives the impression that this sinks to the level of schlockolate, well… that's beside the point.
Mast Bros concentrate on other pursuits -- distribution & sales, for instance. With growth comes an inverse relationship between attention-to-detail & volume produced.
Similar to Jeff Koons, they create chocolate in the superficial sense (stated as a high tribute). Masts are grand designers & excel at marketing & branding while others actually perform the grind (a factory of bright-eyed staff, interns, & Girl Scout
®
grads who man the registers). Add-in hook-ups with boutique labels such as this bar bearing
Crown Maple
from Madava Farms in Dover Plains, NY & it all spells $-U-¢-¢-E-$-$.
Madava is owned by Manhattan investment banker Robb Turner. He brought business acumen & management to upstate, tapping trees with brutal efficiency, replacing metal buckets with higher yielding tubes. He & his colleagues are noted for turning out a maple syrup somewhat sweeter than most.
So along with the clunky-sounding 'bean-to-bar', here's an assemblage that enjoins 'bough-to-barrel' -- maple syrup / sugar from tree-to-table.
This mash-up forms part of a strategic plan that envisions the Mast going international if not global. Next stop on the tour: just as the British Invasion of America a half century ago riffed-off Southern Delta Blues & floated it into mainstream rock, the label hopes to reverse the trade winds. Payback time. What
Amano
was poised to become, Mast stands on the threshold of accomplishing. A breakout act.
Paul Young
,
Duffy
,
Hotel Chocolat
,
The Chocolate Tree
, &
Pump Street
… Brooklyn's coming to London. The Bros should blend in easily with neo-Victorian sensibilities for handcrafted sustainability & ethos. English who buy it on account of reputation can then eat it standing in front of the Younger Memnon statue of Ramesses II at the British Museum & experience Ozymandias Melancholia directly. After all, for the Masts, they're not just doing it, they are it. They no longer need to produce blockbuster hits any more than Justin Bieber for they are hits themselves.
It all teaches an invaluable lesson to aspiring
barsmiths
that the criteria for
quality
entails less about content & more about character, as in the character of any novel or film. The difference between product versus personality. No one currently does it more economically & effectively than Mast.
INGREDIENTS:
cocoa, maple sugar
Reviewed October 14, 2014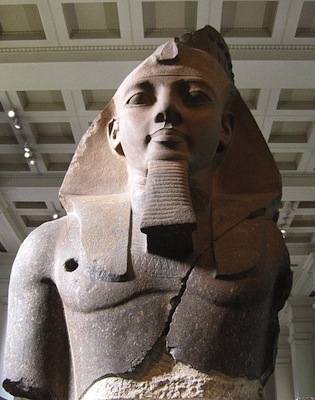 The mock frown & cold command of the king of kings: Look on my works, ye Mighty, & despair! (circa 1,250BCE)