St. Vincent Grenadines
Hacienda Betulia
De Filipijnen
Don Moisés
Soconusco
Cuba +more
by
Krak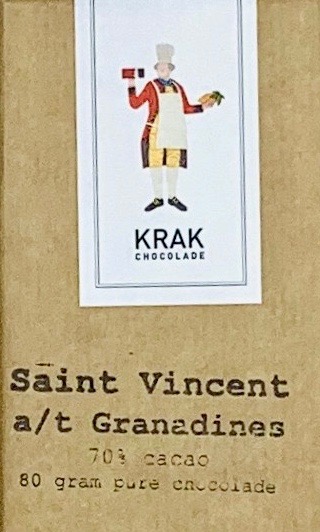 Impact
Color:
Colombia: orange... not burnt orange but bright orange; stunning
Sierra Nevada: orangutan (orange-tan)
Don Moisés: light brown / beige
Soconusco: slate brown
Cuba: black cherry
St. Vincent Grenadines: solid medium brown with a drop of redeye
Jeneverbes: a bright brown thanks to a wink of pink
Tanzania: iron-ore brown
Madagascar: burnt-orange with light purple edge
Bến Tre: pitch dark
De Filipijnen: silver-back brown
Hibiscus / Vanille: stunning rose-brown
Surface:
all-pro
Temper:
buff
Snap:
wear earmuffs
Aroma 8.7 / 10
Colombia
70% cacáo-content; Hacienda Betulia Lot B9; Maceo, Antioquia, Colombiacacáo verde
/ green cocoa bean, practically leguminous, pierced by a fresh frond -> passing fruit plume crushed by dry bluestone pavement
Sierra Nevada
55% cacáo-content Milk Chocolate
créme brulée
Don Moisés
70% cacáo-content; Don Moisés, Soconusco, Mexico
prickly cacti (tell-tale Mexico) -> agave -> bracing tart upper register -> runs dry... arid caramel
Soconisco
70% cacáo-content; Soconusco, Mexico
the desert aspect of
Soconusco
(above) moved indoors, into a library with a kitchen cupboard, so add dusty / musty pepper, leather bookbinding + a stash of sour bursts & burps -> sweet 'n dry cocoa powder
Cuba
70% cacáo-content; Baracoa, Cuba
bar-b-q pork 'n beans in sapping sweet sauce
St. Vincent Grenadines
70% cacáo-content; genotype Blend
unique
butterscotch bread pudding topped by the thinest glaze of marmalade
Jeneverbes
55% cacáo-content flavored Milk Chocolate; St. Vincent Grenadines
disinfectant-level citrus... not the fake virus hand-sanitizer stuff but the cleaner au natural variety, summarized as a lime-pine rooted in caramel
gripping
Tanzania
70% cacáo-content; Hybrids; Kokoa Kamili; Tanzania
triple wave: a) sap 'n resin; b) dragon fruit on graham crackers!!!; c) latex in the guise of a red rubber ball
Madagascar
70% cacáo-content; Mava Sa Ferme D'ottange; Madagascar
cocoa tar... a thin asphalt ala ylang -> exhales a fragment of a seed of watermelon!
Bến Tre
70% cacáo-content; Mekong Delta, Viet Nam
blackstone & those only from Việt Nam exotica / erotic fragrances -- saffron, out, sandalwood, frankincense
De Filipijnen
70% cacáo-content; Kablon Farm; Tupi, South Cotabato, The Philippines
a veritable lumber mill, no 2x4s laying around, more like sawdust & mulch, all redolent of deep
Earth tone
cologne + a sweet top
Hibiscus / Vanille
very vanilla ice-cream (indeed dropping the whole vanilla bean)
Mouthfeel 13.2 / 15
| | |
| --- | --- |
| Texture: | big & round |
| Melt: | slowly expansive |
Flavor 46.8 / 50
Colombia
milken entrance (betoken of
Criollo
lineage?) -> color transfer -- orange neroli + grenadilla... followed-on with an
Aroma
transfer, "green" cocoa bean -> nut skins -> into a bramble thicket -> comes out dry Vermouth -> lemongrass exit
Sierra Nevada
rare black mushroom toffee in cardamom of incredible persistence... only & then barely punctuated by dairy tags late in the 2nd half -> forest honey drizzles atop sweet black mission fig
Don Moisés
those tarts in the
Aromatics
trot out first on the mango-mandarin side of citrus -> moves to guava -> passion fruit... the preceding all underscored in light avocado-caramel (rare) -> wafer -> excellent cocoa lichee ending
Soconusco
Mexican tarragon -> citric sheetrock -> raw legumes -> bottom cocoa tannins -> malted ginger-breadfruit
Cuba
transfers its
Color
(see above) more than its
Aroma
(thankfully), black cherry in fudge brownie -> an excellent straightforward chocolate-hash -> small back bitter café under star anise -> black mission fig -> rising licorice & lots of it -> obligatory molasses & more of it &, this being Cuban, tobac -> ends whence it began on a modified dense cocoa-dust brownie -> strikes off with a brief, pronounced & unexpected soursop a/k/a guanabana clearing! -> goes down sugar-caned rum-kola nut!!!
St. Vincent Grenadines
sapote backed in very black strap molasses which then drowns in it -> indigo -> intrinsic juniper (hmmm... see inclusion bar
Jeneverbes
below) -> bends toward coffee -> arrowroot -> black rum
Jeneverbes
direct hangover from the
Aroma
including, of course, juniper berry which, naturally, leads onto gin 'n chocolate -> mild milking to the finish
Tanzania
overall bearing re-confirms the initial wave of the
Aroma
(above) -- piercing yellow-white fruit entrance (marula; pineapple - grapefruit), stays aloft a wooded cocoa-clove plank -> softens like melon to balsam then tamarind -> takes on alcohol (gin, then vodka) -> almond liqueur at the very back
Madagascar
POW-WOW (for Power + Wowée) fruit splay -- multiple berry farms converging on a hazelnut flour chocolate base
Bến Tre
spice cake... no ordinary spice cake... none of the usual suspects... instead the very
Aromatics
airlifted down onto the T-buds (T for Taste)
De Filipijnen
pili nut opener -> fruited plains (rambutan, strawberry, durian) -> macapuna for a reserved
Dark-Mylk
expanse featuring a soft yet dark caramel -> reverts to fruit (pomelo), back to nuts in a round trip -> coffee grinds
Hibiscus / Vanille
vanilla frosting -> berry blush leads to lemon ice -> more vanilla icing, alternating with hibiscus pound cake
Quality 18.6 / 20
Mark Schimmel aka
Krak
is a chocolate genius. In a world dominated by slick packaging, oft on the advice of some hackneyed hired 'consultant',
Krak
instead goes for essentialist butcher block paper with a cargo font + a sticker slapped on, & gets right down to business. True artisan concentrating on the interior contents. Lets the chocolate therein advertise itself. A couple near-miss blemishes in the collection; some of these beans prepped at the source weren't exactly stellar material, he salvaged them anyways for the most part; otherwise these bars are 5-Star including a few unique takes on certain origins, quirks that risk failed experiments.
Colombia
Wild 'n wooly thanks to processing on the raw side of things for a brassy, immature flavor.
From a supposed family of single-seed cultivars labeled 'Colombian Criollo' on a 15-hectare hacienda. Definitely different than the more renowned
Venezuelan Criollos
which could mean that this may or may not be
Criollo
at all in the sense of the discrete genetic group. Indeed a quik scan of the property's trees & pods displays a
diverse admixture of types
, at least morphologically. Genetic analysis yet forthcoming.
Whatever, the kind of material that snags a ribbon or two at chocolate-eating contests because it busts thru palate fatigue with gusto & vigor.... err, vinegar with a splash of acetic acid.
Sierra Nevada
Where the hell does this come from? Major WOW-Factors! And what of its Chocolate base? From the same country Colombia as the
70% Dark
(above) but different region & comportment.
Among the very best
Dark-Milks
... ever. Tremendous staying power / constancy. And a flavor so true / honest without a shred of artifice.
Krak
really built a seamless integrator in this one.
Exemplary roast. Warm to the tongue. The black points, yet no blackening / charring whatsoever. Components perfectly aligned & melded.
WTFudge, among the best bars --
Dark
,
Milk
, Ruby (category still pending),
White
or otherwise -- ever.
Don Moisés
Keepsake cacáo from over a century ago. Again, like the Betulia from Colombia, this too reputed to be Criollo but in Mexico. The color indicates possible pedigree of at least a recessive pigment gene. It tastes interspersed however with hybrids. So be it. And none the worse for it.
Steady as she goes as far as brass tarts can possibly be. Incredible poise considering the inordinate acidity strafing the T-buds (T for Taste). The ferment on this is dynamic / live (perhaps overly so).
Krak
really contains the burst(s) well. Major
flavor development
attributable in all likelihood to massaging these seeds in the conche / melangeur. A high-wire act that never falls / fails. Exceptional craftsmanship.
Soconusco
Typifies most Mexican choc circa late-20th / early 21st centuries. Prickly / barbed / sharp. The differential here between this & the
Don Moisés
(above) is a 6-day ferment (on the longish side) undergoing but 1 turn (thus suffocates cacáo's biochemicals so they can't breathe).
In a fermentation pile, oxygenation proves critical. Not merry Mex but meh-Mex.
Cuba
Nothing exotic or esoteric, just extraordinary. As in the bullseye direct hit of chocolate with nicely dappled offsets. No kidding around, this gets down to it -- quick. So clear 'n clean for such a dark countenanced flavor. Speaks qualitatively all the way around from on the ground in Baracoa, Cuba to
Krak's
workshop in The Netherlands.
St. Vincent Grenadines
Unsung origin.
Krak
going out of its way & off the beaten paths leading to
Ecuador
,
Madagascar
,
Peru
, et.al.
So Dark. Monochrome (other than a brief burst at the beginning.) Thick. Brooding. Yet sweet! An undercurrent cross, given its island nature, between volcanic 'n reef.
Claustrophobic in density.
Jeneverbes
Well-executed complementary stack of choc, dairy & berry. A cocoa that inheres with intrinsic juniper receives more of the star attraction by adding juniper. Quite pronounced without overpowering even as it nicely effaces the heavy ponderous molasses quotient of St. Vincent Grenadines cocoa base (higher sugaring helps too). Smart & sharp in character & flavor. No mistaking though, if juniper berry is what you want, juniper's what you'll get.
Tanzania
Quite abrasive for a
TZ cacáo
. Its oft-ripe & rather red fruits bleached here. A wake-up chocolate... rousing at first until it warms up by mid-progression. Added
CB
(cocoa butter) creates a heavy spread across the palate rare for the origin
Madagascar
Sums up a chocolate-berry pie. In the universe of Madagascan bars -- of which there seem to be as many as stars in the constellation -- this blazes thru them all with a warmer than usual roast, concentrated fruit & a dense cocoa base for perhaps the strongest most fortified of them all. Flat out fab
Krak
.
Bến Tre
Archetypal Việt that tastes more
Tiền Giang
than
Bến Tre
. The latter usually comes brighter; the former more heady, like it is here. Then again, since these provinces sit right next door to each, they're close enough.
Super distinctive. No where else on Earth tastes like this.
De Filipijnen
That Dark Milk-like concourse almost flirts of a
Madagascan milk
with its fruit acids. But its deep dark depths venture elsewhere, diving well beneath. The balance & range speak volumes. Not all of it sweet talk, though plenty of that too punctuates to fructify the profile. Some sharp & grounded edges enliven the bar. A tremendous proxy for Filipino terroir.
Hibiscus / Vanille
Sensational. Each element common on their own but rare together.
Über-deluxe bIrthday cake in a bar &, better yet, exorbitant dowry brought to the wedding reception. When only the finest will do from the best baker / faker / maker in town. Maybe country... continent... world. Galaxy?
INGREDIENTS:
cocoa mass, sugar,
cocoa butter
(for
Sierra Nevada 55%
add whole milk powder; for
Jeneverbes
add whole milk powder + juniper berry; for
Hibiscus / Vanille
add whole milk powder, hibiscus + vanilla)
Reviewed February 23, 2021