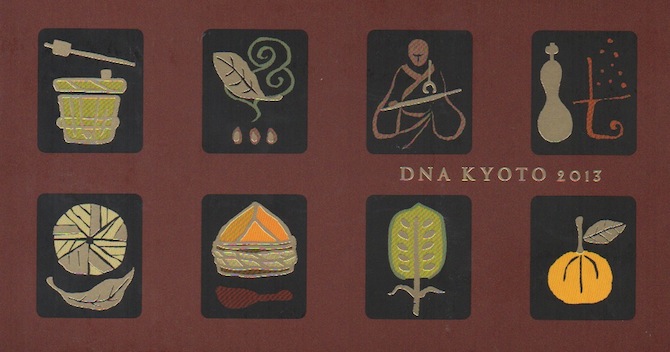 Impact
A tea shop situated in the heart of Kyoto for almost 4 centuries should know a thing or two, or at least hold an informed opinion, about Japan's former imperial capital, now home to hundreds of temples, shrines, monasteries & assorted religious sites. Such as, does this box of "DNA Kyoto" chocolates by Es Koyama (click image at right to enlarge) reflect the spirit of their city if not its molecular biology?

The gaggle of professional tea-infusers stare at this box, inspect the design & interior for its construction & contents, then start to giggle.

The answer is obvious even to a gaiijin.

Too polite to say 'no', though they say so anyways.

Born in Kyoto in 1964, Susumu Koyama, the chocolatier behind this box, can be forgiven. This box has about as much Kyoto in it as LeBron's game has Akron, Ohio. (Mr. Koyama, please accept that as a compliment since Mr. James is a baddass baller.) Which is not to say there's none; just that both have flown the coop some.

Which translates that you, sir, carve up some crunk-fu chocolates.

Now don't get too big-headed like you're some teenage-phenom & consecutive-season MVP cuz that be another story.

But those girls behind the counter of that tea salon… well, they want another piece of you & you're not even there. Oh, you chocolate Ariwara no Narihira (the Japanese Casanova). Your relative accessibility has them licking your good graces by way of your flavors.

They're all yours.
Presentation 2.8 / 5
just 8 pieces in this set but 2 or 3 associates in the entourage hover around each, which equals an ever-mindful restaurant that appoints 4 wait staff for every diner (rather than every table) -- all dropped into a lacquered box, probably from Tokyo, appointed with plastic trays… nowhere near the Lexus luxury of another Japanese box by
Le Chocolat de H.
On the backside of the lid reads the inscription
Je suis né le 6 février 1964 à Kyoto
("I was born February 6, 1964 in Kyoto"). Proud son of Kyoto, & almost eerily reminiscent of birthers goading Obama to produce a birth certificate.
Sums up 'generica' in terms of overall display.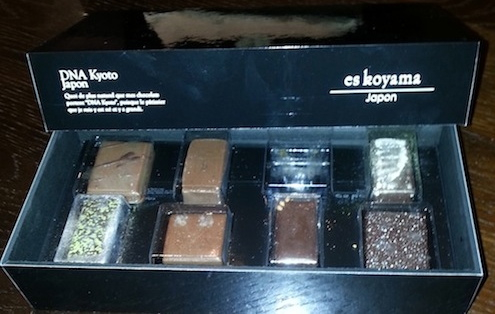 Aromas 4 / 5
enclosed as a whole but distinct with each piece
Textures/Melt 7.9 / 10
| | |
| --- | --- |
| Shells: | int'l standard |
| Centers: | generally uniform though lacking in body at points |
Flavor 46.7 / 50
inhabits the lower realm of
Flavor Profiles
somewhat caramel-centric…. repetitive in fact that it almost becomes
bukakke
(as when multiple Poppy Caramels decide Mommy Cocoa needs a little more of the same treatment… but, hey, everybody gets off)
Quality 28.2 / 30
Nothing stands out in this int'l bonbon award-winner because the box, as a whole, contains uniformly & universally high marks.
The alignment & affinity of combinational forces approaches, from a different angle, the metaphysical qualities of a chocolatier in Kyoto named
Nama
. Little question then that this box by
Es Koyama
inheres with its maker's birthmark.
A bit of a one-stroke samurai to be sure -- but what an edge. Neither sharp (as in bright acidity) nor blunt (such as blow away intensity). Just exquisite "little deaths" (the Japanese phrase for 'orgasm') by a few strategic thrusts…. except for the very end when this box administers a single kill-shot (see
Yuzu
below) -- a dagger to splatter the guts.
Selections
Ikkyu (Salted Japanese Caramel)
-- super depth charges excite the SONAR devices back on the surface with unrivaled fathoms of
butter
-scotching; deep-diver vein / tissue massage on the t-buds;
Costa RIca's wooded bulk cocoa
never so profound before as in this; the only peccadillo -> embedded soy beads (
natto
, the Japanese element in this variation on a French
Caramel au Burre Salé
) generate mildewed bean after-taste, but even they possess redeeming virtue by giving teeth something to sink into
Kurodaizu shoe
-- triumph of concept over content but this being Es Koyama that still satiates… with abundance… rich caramelization without the probing depth of the
Ikkyu
(above); 38%
Costa Rican
Milk Choc enrobes a 55% Semi-Dark
Ecuadorian
(midrange
Valrhona
staple) shaded by black soy-bean soy sauce, the last seasons as both a condiment & a compliment to the point of a fusion-gel centered around a fig tone
Yabai
-- the luster dust on top vanishes faster than fleeing comets into phenomenal circular action on the palate; swirls honey-cum-citrus up to a vertical spice concoction (
kuro-schichimi
) driven by black pepper; all of it encased in
Guanaja
; downright hydraulic
Kyo Bancha
-- drastic ham-bone smokes right off the nares; all the script about "
Madagascar Criollo-type cacao
" & roasted tea leaf means nothing for this dog meat (that is, meat for man's best friend or for those humans prone to bacon in their chocolate); the kind of stuff Koyama could spare himself of all effort by just purchasing any mechanically-dried skunk-cocoa out of
Indonesia
,
PNG
,
Vanuatu
& host of other
Oceanic origins
Kome Koji Miso
- another caramel (or so it tastes) in almost a redux of
Ikkyu (Salted Japanese Caramel)
above; as such it smacks redundant except very rich, buttery notes with a honey 'n quasi-balsamic essence actually derived from fermented rice (think 'rice syrup') & miso (a soy paste); ostensibly incongruous, they conspire in an absolute silken texture whose flavor countenances a serene temperament despite the heavy-laden tone; an example where the narrative in some way outstrips the total aromas but, hey, no real complaints with them either
Sesame
-- stealth hazelnuts, hidden in flavor but felt as micro-exfoliates in this praliné, softly amplifies both the chocolate base (a
Dark
shell over
Milk
ganache of unusually caramelized
Madagascar cacáo
owing to a specific
seed
lot) & the aromatic depth of golden sesame (as if an extracted oil); highly revelatory
Matcha
-- sweetest green tea on the planet;
White
ganache contributes to magnifying the young first-flush green leaves that together almost matches the ripeness of pears crossed by pistachio; direct-light photosynthesis of incomprehensible clarity
Yuzu
- transparent / clear, loses sight of the beguiling mystique behind Es Koyama's formal restraint in his lower-toned pieces to place him seemingly out of his element; lavender-like nose yet all citrus on the tongue with precious little barrier to assuage it, despite the
Dark
robe over a
White
ganache; not necessarily a misfire but, in a word, 'plain'… at least it relieves the relative constancy / stupor / tedium of the general collection
Reviewed December 13, 2013