Impact
What milk is to infants, coffee is to adults.
This fusion of the two -- melded together in
White Chocolate
, a natural galactagogue for sore nipples btw -- allows the inner-baby to play in every grown belly.
Appearance 4.7 / 5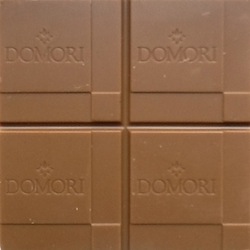 | | |
| --- | --- |
| Color: | dishwater blond (contains either lots of coffee &/or undeodorized White Choc) |
| Surface: | hyper clean to pass any Sanitation Dept inspection |
| Temper: | formica |
| Snap: | free burp |
Aroma 9.1 / 10
a near perfect simulate of the cup but in a bar form... imaginary foam head with a bubble structure included for beer boys & babes to admire & analyze for days... yo, 'Power Hour' fans, put on the Kanye
Mouthfeel 11.8 / 15
| | |
| --- | --- |
| Texture: | bouncy |
| Melt: | slow to start then accelerates rapidly to the finish |
Flavor 46.6 / 50
snapping coffee but nothing colic as it whips into mocha -> innate vanilla (none added) -> limestone, as milk tries to separate unsuccessfully -> clear coffee acidity over maple-cream custard (sensational)
Quality 17.9 / 20
Another in the label's
D-Fusion
line of confectionary bars.
Illy coffee maker acquired
Domori
in 2008 & this more than any other release testifies to the marriage.
Domori just Illin' it (in more ways than one), as the Italian house of chocolate-style measures twice & cuts once for perfection.
Illy obviously knows coffee & Domori has proven its mastery in every chocolate category, including
White
(albeit Flavored with
Licorice
and then again
Mint
).
Once more the label reaches for innovation & novelty. Coffee-cocoa combos are typically
Dark Chocolate
or
Milk Chocolate
affairs. Only
Santander
from
Colombia
has preceded this with a coffee in White Chocolate. Less native & resplendent than that all-Colombian complex, this achieves its rich, pure clean lines of flavor in a spare configuration & might point further to the direction that the company will take in the future. Especially given the inattention to obsessive details in recent batches of
Porcelana
&
Guasare
that used to be the barsmith's hallmark.
Domori has streamlined its once-extensive collection. Gone are a number of
origin
bars. Rabid purists need to come to terms with the fact that most
straight dark chocolate
fails to sell except to a small cult following. The real money circulates among the candy giants & the confectionary end of the biz.
If so, the loss could be a culinary gain as new blends are created. Knowing Domori & Italian cuisine, they'd probably be just eclectic enough to hold interest, without being eccentric just for the sake of it.
Now on exhibit: caffé roasted up to Italian espresso levels, cooled in milk, balmed in
cocoa butter
, & seamlessly integrated.
Yep, cappuccino alright.
Sheer craft.
INGREDIENTS:
sugar, cocoa butter, milk powder, coffee, lecithin
Reviewed April 18, 2012