Impact
Coppeneur
wraps these contents in a mock-parcel post (click image at right to enlarge) which vibes a cargo look surpassed only by
República del Cacao
whisking buyers on a tropical expedition in a bar.
The company includes a docket on the back replete with all sorts of data; some of it informative, some of it useless. For example, a roasting time (39 minutes) without any temperature setting, & a
genotype
of the antiquated '
Trinitario
', a now-nebulous term to be utterly meaningless.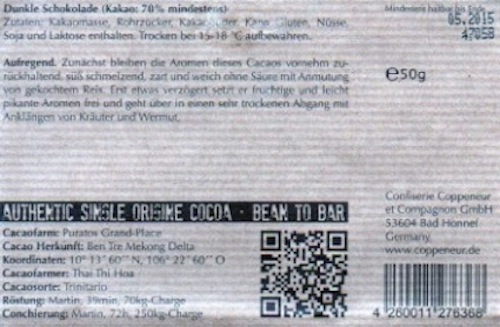 As with 2 other bars in this limited edition series (
Chontalpa
&
Carretera Panamericana
), Coppeneur addresses the package from AND
to
the same place, or in this case
Vietnam
. Quite apt for those other 2 since they should be returned to sender… delivered back to the drawing board.
But everyone should be satisfied to receive this one. The difference being that Coppeneur sourced it from the
Puratos-Grand Place
which has a hand in developing the Vietnamese cacáo sector (more on that in an upcoming review), whereas with
Mexico
&
Venezuela
the label brokers with parties exerting less quality control.
| | |
| --- | --- |
| Color: | Boehner-orange & brown |
| Surface: | another looker from Coppeneur |
| Temper: | cosmetic-quality matte |
| Snap: | claps |
Aroma 6.6 / 10
another wooden slat 'n cheese combo from
Coppeneur
(possibly attributable to the quality of its
cocoa butter
)
dry sour
pencil lead, & leather
Mouthfeel 12.2 / 15
| | |
| --- | --- |
| Texture: | non-resistent |
| Melt: | relatively quick clip |
Flavor 43.1 / 50
sweet attack -> raw cocoa fudge 'n cream -> bar Color reflective of orange + yellowish fruits (mandarin / mango / longan / guava) -> marmalade quotient...holds this gear for the entire afternoon… add pineapple -> pre-possessed wood (bamboo) from the Aroma with modest stringent laminate
Quality 16 / 20
Pretty much conforms to the hallmarks of
Bến Tre cacáo
though nowhere near the tongue-twisting / heart-stopping hedonism of some
Marou
bars from divers parts of
Vietnam
.
Once again,
Coppeneur
goes easy on the processing except, per chance, with the
cocoa butter
, which creates some illegibility of
Flavor
. The fruit packs rather lo-def & the base notes cloaked. Indeed, this Bến Tre grows a little top-heavy with upper-register acids by the end as those bottoms fall out so that the body feels paradoxically thin (on account of soft butter) & flavor dilute.
Nonetheless, this far more accessible chocolate (re: easier) wins with its juicy sweetness.
INGREDIENTS:
cocoa mass, sugar,
cocoa butter
Reviewed August 14, 2014