Impact
EXPANDED REVIEW: below are segments of 2 bars from Fruition --
Rustic Crunch
originally featured in October 2014 &
Bourbon Barrel Aged Milk Chocolate
in 2015. Overall rating & metrics (upper right) reflect a composite average of each bar's individual measures.
*************************
Perfect Halloween fodder to get everybody's spooky on…. including trolls & goblins… complete with fright-night optics & tongue-twisitng feelies.
Ultimately harmless seeing how
Fruition
turns down the cauldron, reduces the Maillard Reactions, & practically shuts the power off on the grinder prior to plunging zombie-skeletons without skulls into chocolate euphoria. Even they somehow manage to bite down & lick it all up.
Appearance 4.6 / 5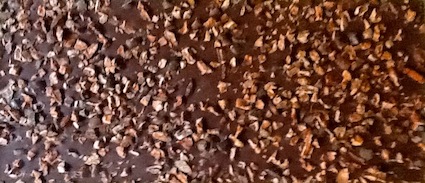 the look of fruition in deep stellar space
| | |
| --- | --- |
| Color: | twilight brown |
| Surface: | scattered Nib-back for star night / interstellar dust |
| Temper: | waxed vinyl |
| Snap: | a wire cutter |
Aroma 8.5 / 10
Rustic Crunch
cacáo verde
banana, of course (
Nibs
influence)
classic riparian forces (woods, leaves, soil, fungi along the banks of the riverbed & sediment)
airs a billowing spice draft swirling about the brown spectrum (clove / cinnamon / cardamon / allspice)
musty cupboard on the fringe
Bourbon Barrel Aged
coffee pound cake; check that, correction, MOCHA pound cake
bourbon heats up & complexes exponentially including but not limited to oak, hemp, & flax linen
Mouthfeel 14 / 15
| | |
| --- | --- |
| Texture: | Nib Crispies™ |
| Melt: | dissolves without decomposing |
Flavor 45.4 / 50
Rustic Crunch
green cocoa detected in the Aroma carries over on the tongue -> sweet sugar-crystaliized ginger -> banana-pineapple -> cherimoya -> low granadilla -> coconut -> under-spices + that cupboard -> a good passing bitter

Bourbon Barrel Aged
cherrywood (including the blossom + fruit) -> bourbon accentuated by marzipan -> those Aromatic woods (above) at sublimated levels -> toasted flan top -> rye
Quality 17.8 / 20
Rustic Crunch
Talk about
tropical
: pina colada in a bar.
Terrific distribution of
Nibs
. Some bars just toss 'em in haphazardly.
Fruition
ensures that they disseminate evenly. This creates incredible consistency in the
Texture
for a Nibs-Chocolate Combine, partially attributable to an overall coarse grind by Fruition standards which aligns better because of it. Hence, the reason for the green / raw cocoa tags too.
Both the cinnamon & vanilla additives amount to near traces rather than pronounced flavorings. Together with the other components they all galvanize perfumes that otherwise would never register; certainly beyond what Tumbes cacáo offers on its own (see
Barsmiths
™ or
French Broad's
version).
Fruition clearly on a roll.
INGREDIENTS:
cocoa mass, sugar,
cocoa butter
, vanilla, cinnamon
Reviewed October 28, 2014
Bourbon Barrel Aged
Milk Chocolate; 61% cacáo-content; Batch 1
Aged for 3 months in bourbon barrels to recall similar experiments by
Raaka
and
Soma
. Those worked off of pedigreed seeds; this enhances & elevates humble stock.
Tastes of added flavor rather than just ingrained influences. Hardly any
Milk Chocolate handles
here at all; that's how amalgamated Fruition makes it. Some may demur such, as well as the exuberant character of the barrel aging, especially the cherry-almond reduction, in a case of 'too good'. Drop it down a month & maybe this distills ever more rarefied.
As is, deserves a spot in the pantheon of the gods' dessert trolley alongside
Corallo's Grand Kru
.
Oh, & the
Textural
body just coats the olfactory nerves... massively.
Rates on its own a 9.3+.
Reviewed June 30, 2015