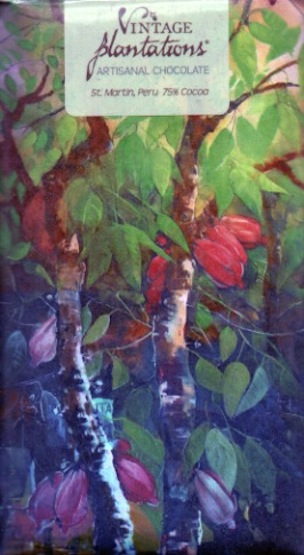 Impact
A Chocolate Daily Double –- 2 reviews in 1. Overall rating & metrics (upper right) reflect a composite average of each bar's individual measures.

***************************************************************************
If the French stand as craft chocolate's forefathers (
Bonnat
,
Morin
,
Valrhona
,
Bernachon
,
Cluizel
,
Pralus
), then Pierrick Chouard of
Vintage Plantations
("VP") belongs to the 1
st
generation of latter day
barsmiths
along with Mack Gianluca
Domori
Franzoni,
Steve De Vries
,
Robert Steinberg & John Scharffenberger
. Pioneers all.
Over the years Pierrick bounced around some, particularly in
Ecuador
where sourcing truly premium cacáos during the 90s & the Naughts challenged even the most venturesome. Mercifully, the situation continues to improve there incrementally. Ditto San Martin well across the border in
Peru
, IF the buyer discerns between the rarer more native varieties from the ever encroaching
CCN
onslaught which, like in its home country of Ecuador, proliferates due to perceived productivity gains.
Good spadework.
| | |
| --- | --- |
| Color: | correct to type |
| Surface: | 2-faced Jovian -- solid printing (San Martin) vs. battle-scarred (Vegan Milk) |
| Temper: | burnished |
| Snap: | consonant |
Aroma 9 / 10
San Martin 75%
behind the impregnable fortress of a mylar wrapper wafts the heavy breath of marshmallow, cotton candy & tannic chocolate thunder

Vegan Milk Chocolate
rich
butter, vanilla-oak, caramelized malt, tapioca -- all commingling together
practically no clue of milk substitute
Mouthfeel 11.8 / 15
| | |
| --- | --- |
| Texture: | fatty waxed |
| Melt: | latent |
Flavor 43.6 / 50
San Martin 75%
fortified chocolate in fine wood grain (mahogany / oak), sweet Raisinette® underside -> hickory wood chips, trace lighter fluid (evocative more than actuated) -> hickory nut -> cocoa-marshmallow close-out

Vegan Milk Chocolate
loads in Tootsie Roll® -> dilutes pretty rapidly into caramel-lite -> vanilla-rice -> starts to descend into a fat blob but the butter, buffed in rice polishings & a wholesome cinnamon (nice), buoy it -> cuts off with the sweetest segments of the Aromatics above (uncanny)
Quality 15.9 / 20
San Martin 75%
A decent San Martin. Neither much evolution nor any real spikes. Relatively constant / steadfast from wire-to-wire. Narrow ranging… seed lot + the roast negate the peripherals.
This aligns with a couple other recent vintages from
VP
that deliver fairly straightforward chocolate without any real bells & embellishments.
INGREDIENTS:
cocoa mass, sugar,
cocoa butter
Vegan Milk Chocolate
In a survey of the world that spans just about every conceivable type from
ass-milk
to
ziegenmilch
, both
mammal
&
vegan
, this though the first rice-milk chocolate to enter
The Census
.
And a revelation at that.
Unlike
soy
, rice at least here melds quite well, other than the Textural bulge, to galvanize heretofore some unusually rare tags.
INGREDIENTS:
cocoa mass,
cocoa butter
, sugar, rice milk, lecithin
Reviewed April 1, 2015