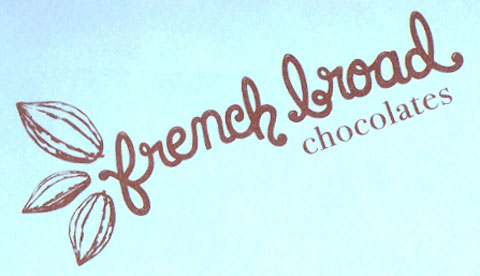 Impact
REDUX REVIEW: Updated & Revised
Ethical chocolate that gets personal. From a husband 'n wife team who trashed their white-collar jobs to hang in the tropics for awhile (sound career move) & then took the plunge into chocolate (beyond integrity, they got balls & attitude).
One of the early organic/FairTrade crusaders to also deliver high-level quality & performance (
Theo
in Seattle also among the vanguard of this pack).
As for the name, dunno if it refers to some artiste demanding a long, hard baguette to go with her French kiss every morning, or to the bend in the broad river that cuts thru Appalachia.
Either way... o, to ride on a labor of love which the heart has not led astray.
Presentation 3.9 / 5
close attention to detail from packaging to accent toppings... pretty blue 'n brown boxes with matching brown ribbon to tie off
plump if standard truffles, rounded all in a row nestled in their little paper cups, picture perfect; apparently scooped with a disher & fork dipped....old school style...like that too!
clean tops & hand decorated (nice touch)...turn them over & the shells' dip/covering looks uneven (another sign of old school fork-dipping?)... even some holes showing the ganache peeping thru
overall thoughtful & attractive plus an amusing & well-written "hi, here's who we are" pullout
Aromas 3.2 / 5
fresh infusion dominant (spice port; fruit accents) + cream subdominant
as per the chocolate -- stick the nose in, inhale & nothing sharp, just dull thudding notes of low scent (if couverture could fart, could this be their little bonbon methane?)
Textures/Melt 7.1 / 10
Shells:
nondescript dark (troglodyte coverture)
some gossamer thin & unevenly enrobed... low snap, tooth, yield & definition
each bite alights quicker than a bookie's paper set on fire... puff & gone
(nice mild 'n sweet Milk Choc though)
Centers:
highly processed & smooth ganache (soft but hold shape well)
a bit sterile (Dark robes especially sleepy in flavor / fast-paced in melt -- smooth with little finish)
Flavor 43.5 / 50
creative & with flavor-jumpings from all over the planet –
Indian Kufli, Masala Chai, White Jasmine
, to name a few – for a globe tripping experience dipped in chocolate
with such a broad array & range, errors abound in the mix but the hits outnumber the misses
much of the bland palate attributable to unremarkable Dark couverture that does little to highlight or offset the flavorings or the shells, leading to 1 dimensional pieces in the
Dark category
(e.g., steamroller peppers & lavenders, plus no-shows on the more classic/difficult flavorings); floral infusions in particular veer perilous to toxic waste with about as much charm & flavor as what dentists buff teeth with
on the other hand, nondescript ganache makes a neutral platform for the robustly assertive peppers; less thrilling but a good burn without the bitterness that befalls many a progressive American chocolatier
Milk Chocolate
is another story (that one over the caramel a shining standout); these sweet-on-sweet marriages can be a chocolatier's doom but French Broad pulls it off sans hitch... smooth & bouncy as a freeboobing teenager
Quality 24.4 / 30
Clearly authentic with sense of self... no cloning the fancy European or trendy South American.
Expect the line to reach stratospheric heights once its own bean-to-box (bombone) operation launches (currently in development) & swaps out the plagued couverture for its own house brand. (For a sniff, check
this prototype
.)
As is, French Broad still rises above most "artisanal" chocolates made in the USA. They really do care about craft & have passion to match. The basic building blocks are there too. For instance, good sense of flavor plus skills to construct each piece that stand uniquely on its own.
But, hey, French Broad... here's one NYC Broad saying hurry up as you ante up the bean-to-box & watch the fit 'n finish on the pieces & a knock out of a product is guaranteed. Then many more than just
the C-spot
™ will want to open a corporate account.
Anointed (shortcomings notwithstanding).
Selections
BELOW IS A MIX OF OLD 'N NEW:
Double Mint
- not your regular
White
gooey mouthwash; 1st bite & the bright fresh flash of just picked spearmint leaves & peppermint oil still growing in the garden, hits the mix over cream ganache & mellows quickly to an herbal choc blend; smooth balance; direct
Masala Chai
– cinnamon mocha in a
Milk Choc
center; gritty & granular to go with
the territory
Indian Kulfi
- mild
Milk Choc
frames this piece boiling over with cardamom while waiting for saffron (which never arrives because it never shows up in the first place)... slowly scatters into pistachios & rose vapors; dessert piece (hell, what
Indian
confection isn't tooth achingly sweet) but nice layers (one of the multi-layers of flavor).
Hazelnut
- toasted hazelnut essence, its warm oils captured & suspended over a
Dark
-
Milk
Choc blend, partially from
Peru
(probably
Dagoba's Milagros
by virtue of its retreating green profile); very good
Café au Lait
– the coffee experience doubled-condensed in chocolate; another mix 'n match / inside-out deal: perfect cup enrobed in Milk Choc arranged against
Semi-Dark
interior (
Dagoba's 68% Los Rios
which inheres its own coffee undertones) magnified by smooth, dark roasted coffee, further enhanced with a nip of bourbon; big stuff
Fresh Raspberry
- bright highs of raspberry unfold even higher, complemented by Dagoba's shockingly good
59%
fruit punch
White Jasmine
– honey & flowers go together like the birds & bees; here both are captured in their scented green tea, + a White Choc ganache enrobed in a mild Dark that slightly competes with it; subtle... 1 of the sweeter ones well done
Vanilla Bourbon Caramel
- forget wine, crazy cheese & bacon bits... chocolate is whiskey-ready & this pinwheel-shaped mold spins across many flavors -- a slightly wet salted-caramel, a warm bourbon + Dark choc -- on its way to a smoothly seamless fusion of forces that leaves a cask edge; exceptional
Cashew Honey Caramel
- the flavor key sounds perfect: toasted cashews & hand cut caramel in a
38% Hawaiian cacáo Milk Chocolate
(3 amber blonds) except the hard tractor-pull on the teeth from the caramel (best for sucking rather than melting or chewing) largely defeats the flavor in a rare instance of Texture trumps Taste
Strawberry Balsamic
- massive Textural interplay between smooth ganache &
Nib
-encrusted shell; very sweet as the berry & the grape easily overrun an equally sweet 55% chocolate base until NIbs counter the combined sugars to alleviate the cloying late in the progression; well-sequenced though
Thai
- sounds strong on paper (lemongrass, ginger, lime, green pepper, & toasted coconut in a Semi-Dark cover); in execution however it strikes a languid repose as every element sits in unison with each other... perfect equilibrium demonstrating skills on top of skills
Canela Picante
- a heat stinger as cayenne never lets up nor lets a 73% chocolate thru to cool the fire let alone cinnamon which languishes beneath; inconsiderate
Lavender & Honey
- twin phenoms married in a seamless cream ganache; perfect pitch as every component in this Milk-on-Dark ensemble rings clear & true (save for the Dark); still stellar
Maple
- virtually a maple-caramel with a not-so-stealth smoked sea-salt that rocks & carriess the flavor forward & far; well articulated
Eggnog
- a White-on-White spice fest; hyper-sweet & generally nutmeg-dominant with a Remy Martin back
Champagne
- add prosecco +
Madagascar cacáo
to the assemblage; highly effervescent / intensely feminine in a soprano trio; off-balanced
Cabernet-Anise
- very toothsome ganache; the grape, the anise, the
Peruvian cacáo
in a friendly clash of palate shock (as red wine & Dark chocolate are wont save for anise which helps bridge the collide) that all turns down into an otherworldly black cherry; terrifically jolting
Reviewed Summer 2009; Revised December 2011