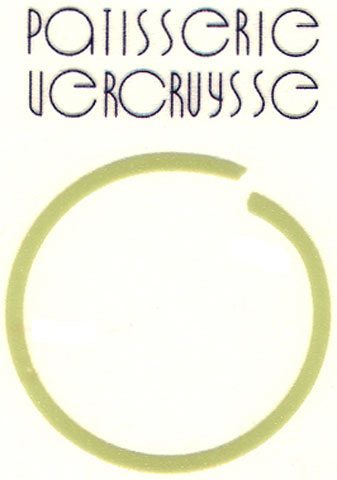 Impact
Another day, another message in the inbox. They're all pretty much the same variation on one another. This one was different however. Instead of a tracking number for an overnight shipment, it read: "I like your website & want to send you a
box
but I do not ship because my creations do not travel well. The chocolates are always made by myself & only with the best ingredients. I create them without any artificial preservatives, which would extend chocolate a long time beyond their true shelf life (I think you should buy chocolates when you have the need to). This, in short, is what I do & like to do... all for the passion &... for those with Passion for Chocolate. If you ever should be in Belgium, you are very welcome to taste."
Woa,
the C-spot
™ elevates
cacáo
all it can but this declaration startled the office.
Has chocolate now surpassed wine (negociants & brokers will move anything, anywhere, anytime... for a price) to rival a Stradivarius? The Holy Roman Emperor Charles V, probably the first European monarch to sip the sacred brew (as then chocolate was served as a beverage only), must be weeping all over his tomb in the Royal Pantheon at El Escorial upon hearing that, no, there won't be any delivery in the afterlife after all.
Even more startling, in an industry that covets secrecy comes an invitation at the close of the letter: "you are welcome to work with me." Wow.
But what happens if this chocolatier's output is pitiful? How will it be possible to rip on such a beautiful soul in a review? O, the pangs of honesty. Maybe that's precisely the nefarious intent behind all the killing-with-kindness overtures.
Mercifully, there are no such conflicts.
Geert (the 'G' silent, pronounced 'heert') Vercruysse likes to say he never works; that this being chocolate he always plays. He undersells himself. His passion for
Theobroma cacao
(literally 'god-food' in Latin), & all things chocolate all of the time, rises to the level of a calling. Therefore, call him a pre-ordained priest, iman, kohen, monk, shaman... whomever gets tapped as handler of the sacramental truths. The trust safely ensconced in his care, he whiles away hours, days & nights -- his whole life really -- ritually inviting all ye faithful that put this little town of Kortrijk, Belgium on their pilgrimage itinerary & flock to it after Lourdes & Notre Dame en route to the Anne Frank House in Amsterdam -- holy sites all. There, Geert offers his daily benediction, & thus duly blessed, a smile guides the rest of the way.
Chocolate Hallelujah.
An honorary member of the God Squad.
Email, txt'g, tweets, Skype, VOIP can go only so far. The best way to experience it is in the flesh, in person, via an audience with Geert. He's a sensualist like that.
The next best option: V.S.O.P. (Very Special One-time Parcel).
You see, in the budding community of the chocolati, miraculous apparitions appear. Geert included a postscript to his letter: "If I should have a friend who is visiting NYC, where could they drop you some chocolates, you never know?"
Where else... at the height of the summer meltdown with temperatures melting well beyond any confection's temperment to withstand them, in walk two strangers carrying an insulated cool-pack where
Dr. Maricel Presilla
, the reigning queen mother of the modern chocolate scene, enshrines bars from around the globe, as well as performs her own wizardry with Latin cuisine. Playing in the background: Cannonball Adderley's
This Here
. After exchanging pleasantries, the visitors calmly open the cooler to reveal a treasure trove. A pallet of edible jewels sent from Patisserie Vercruysse & hand-delivered by his relatives / trusted envoys because blood is thicker than water & chocolate has symbolized blood ever since its
Mesoamerican
roots. In presenting the gifts to the good Dr. Presilla & offering more salutations to
the C-spot
™ (thank you very much), they reiterate how "fresh chocolates don't cope with long distance travel very well, but this is the risk we have to take".
The very definition of personal service so precious one would think the Hope Diamond had arrived.
In a sense, it has.
Naturally, Dr. Presilla makes sure the treasure is appropriately handled & all due protocols are met in the chain of custody.
The honor gratefully accepted, there's no way to adequately return it.
In an era when hope has turned to despair & the world superficially appears to be going to hell in a handbasket, Geert Vercruysse re-affirms that not all is lost, for big-hearted & kind-spirited people are coming back to chocolate instead.
Geert (remember, pronounced 'heert'), as in 'here it is'.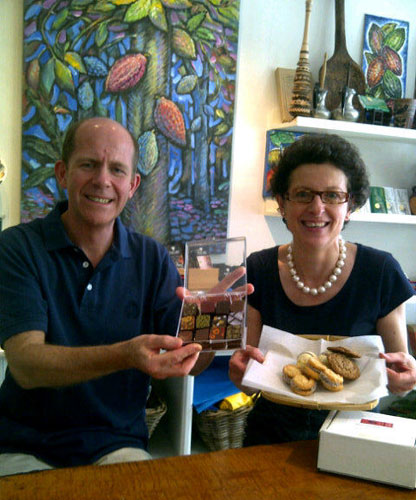 Geert it is... Patisserie Vercruysse on the Hudson: Liaisons from Beligium inside Maricel Presilla's Ultramarinos destination in Hoboken, NJ, USA -- right across the Hudson River from Manhattan
Presentation 3.8 / 5
plastic portable chess box (let's hope food-grade for
cocoa butter
is highly absorbent)! well-crafted & attractive pieces, clean & easy on the eyes by a moderate sheen; uniform size & shaped to look like mahjong tiles au noir; ditto color transfer tops all lined up in neat rows if technically imperfect (some uneven bottom seals); overall, so far so good
Aromas 4 / 5
redolent of a bakery (pastry butter, oven-warm bread, croissants) next door to a chocolate factory (light cocoa & sugared scents laced with marshmallows, freshly pampered baby's ass & newly tilled earth)
Textures/Melt 8.4 / 10
| | |
| --- | --- |
| Shells: | cares about the craft -- nice construction with (generally) proper thickness of support walls vs. softness of ganache creates good juxtapose to give the tooth something to play with & the tongue a teasing melt |
| Centers: | soft, clean, no grease, with excellent spread on the palate (save for marzipan's sweetened sand paper) attained perhaps by slightly higher than average cream-to-cocoa ratio |
Flavor 42 / 50
Delimited by design. Primarily a series of single-origin ganches, the equivalent of a Grand Palet d'Or Tour
Around the World of Premium Cacáo
, with only a few containing inclusions for change of pace / taste. Solid, & in some cases -- knowing the base material – remarkable; no nasty soy, overriding additives or other abominations save for a few scorchingly-sugared ganaches that blast the senses rather than seducing them, often achieved by mixed combos of
Milk
-on-
Dark
or vice versa.
The usual pattern: a frontal sugar assault, then soft chocolate, followed on (in the case of some pure origin cacáos) by an odd / alternating old shoe / fish bone / pencil shaving / mouse tail in the upper sinus cavity that feels experimental in parts & eccentric in others – therefore sugar the great equalizer. Valiantly attempts to draw a fine line between taming / gelding such interesting sources (patterned after the classic Euro tradition) or letting them roam wild & free (perhaps unwisely given the nature of some origins & their spotty post-harvest techniques).
In the majority of instances though a rare exposition. And in every instance, incomparably fresh.
Quality 24.9 / 30
Highly-processed. Belgian sweet (sugar 'n cream, please), French style (crêpe-thin shell / satin ganache), Euro sensibility (pleasure... all for pleasure) & global in scope. Rather than rely on bulwark Belgium lines such as Callebaut or Belcolade, Vercruysse spurns them (a rarity... a Belgium Chocolatier who never works with Belgium couverture!). Instead he champions diversity & obtains couverture the way
artisanal barsmiths
obtain
cacáo
– from many
sources
. He spans the globe seeking out small & unique craftsmen who align with his interest.
Like
Amano's boxed collection
, he introduces the uninitiated to origin cacáo via the bombone. Like
Castelain
, he's an optimician to make several barsmiths taste better than their original work.
In Geert's own words: Truffles are always made without adding flavors to origin chocolate, to keep the origin taste of the chocolate, which is my goal & respect for the planters & honest chocolate makers. One of the nice things is creating chocolates with couverture of new companies or new batches to taste their flavors for the first time, not as a chocolate bar, but in a sublime bonbon.
Any shortcomings stem from the couvertures themselves which Geert selflessly highlights at the expense of adding flavoring(s) that might cover for them. Pretty gutsy for a chocolatier to ride out so naked like this. It demands a premium placed on sourcing if not the absolute best, then at least those with character to challenge & excite the senses.
Craft all here; attention to detail too; plus respect for the wondrous base produce -- exotic cacáos, many painstakingly fermented, sun-dried, roasted, ground & conched.
Syncopated & simple is the grail-quest here. The road can be so long & winding. Unlike Elijah for whom the journey at one point proved much too much, Geert Vercruysse is well along on it, sustained by the power of cacáo to connect people in answer to that fundamental question: "What is your business here?" (1 Kings 19).
Selections
NOTE
:
Because of Geert's creativity, the names below refer to the design depicted on each respective piece. the C-spot™ has taken this liberty in homage to him.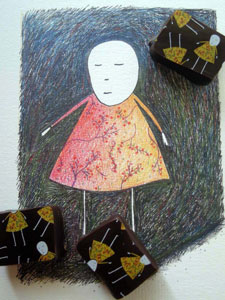 Birth of a Child
– the singular match of
Åkesson's 75% Madagascar & butcher's-grind quality Voatsiperifery pepper
except here paired with a rather tame
Brazilian chocolate
(there's a first... a tame bar from
Brazil
) or just a deeply sublimated one in a buttoned-down balsamic-like complex layered on thick & brooding thru a
Dark
butter-ganache; very adult & aggressive, especially how the pepper comes & stays with the chocolate finish to unpeel the senses in an otherworldly dimension; huge flavor & effect... a standout
Boxy's
-
Casa Luker's 65%
frames a rapido meltaway of marzipan-cum-coconut (almost a goopy franken-hybrid of fondant / meal)... leaves some sugar burn-marks after it confects into a cake consistency & yet satisfying to the point of craving more; still, should re-proportion for better results
Daisy
- very smooth / very sweet gianduia cut by almond with an
MC
base that renders a wafer backing
Curlycue
–
Milk
-over-
Dark
, satin soft & smooth; a too damn hi-sweet pitch / sugar-kill on all the softness of the milk/cream that nonetheless coerces the high notes of the mother ship (Adi couverture) toward a grape-gestalt; intriguing
Crushed Diamond
- pure
Pacari
with a splash of Belgian cream; very straight, tannic-
Dark
cocoa & simple... + typical
Ecuadorian
chalk limning the edges that cauterizes the finish
Jane's
- belongs to the woman whose lover took her on a safari expedition guided by Geert himself... specifically,
Congo's
Mavivi Nat'l Park to witness "wildlife cacáo" grown under the auspices of Philipp Kaufman's
Original Beans
venture, crafted into the bar
Virunga
, then transformed by Geert Vercruysse for this stylish li'l passport; an all-
Dark
black-tie affair in the jungle calm (replete with very disquieting hints at
its earthy parent cacao
) that releases tannins on the high palate inflected with jujube fruit & grounded by that treacle also found in
Blanxart's nearby Congo 82%
before a eucalyptus-like coolness clears the cocoa forest; this doubles as the tuck-in chocolate on the pillow for sweet dreams whence safely back in the tent, or back home where good taste travels freely
Fronds
- another unadulterated origin cacáo (
Pacari 60%
);
Milk
-on-
Dark
; a bit nitty gritty on the texture, otherwise well fermented for very fruitful profile incorporating cream as custard backed in what passes for pastry flour; once more however the finish flounders similarly to the
Crushed Diamond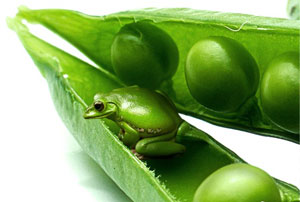 Pod Bearer
- take the Fronds above from Pacari but at 80%... naturally greater stamina (very smooth, deep, long lasting ganache) & no flat finish per se, only a lilting pea & a little road-kill frog in the upper sinus cavity (wow, talk about rainforest!); tremendous
Balloons
- attains phenomenal altitude from a fruit-gusher for an upper register treat... yields to tonka beans & crushed cocoa nibs, especially the golden hay aspect of the herb; beautifully tailored
Dark
ganache trimmed in a
Milk Choc
casing – all sourced in
Venezuela
by
Amano
-- with lasting quality; exceptional
The Maze
- from the Lubeca house of Marzipan comes this 44% grainy paste; very slight shell-yield; overly sweet (almond almost gets lost in the sugar) yet quite true to the nut (as
Dark
cocoa only mildly influences the proceedings) but, alas, with a tin back
Connecting the Dots
- based on the "Chloé Bar" that transforms with cream those cognac-inflected tones from the
El Ceibo 71%
into... not a Bailey's Irish Cream but a Geert's Belgian Chocolate Ale... ending on a powerfully sweet cocoa-cotton candy hit; a micro-brewery at its most compact
Red Pods
-
Milk Chocolate
shell & cream ganache impose themselves on one of Adi's better releases –
the 72% Fijian Ami-Ami-Ca
-- mollifying the objectionable notes while highlighting the inviting ones (papaya into strawberry) even as the back craters into the ocean floor
Reviewed August 19, 2011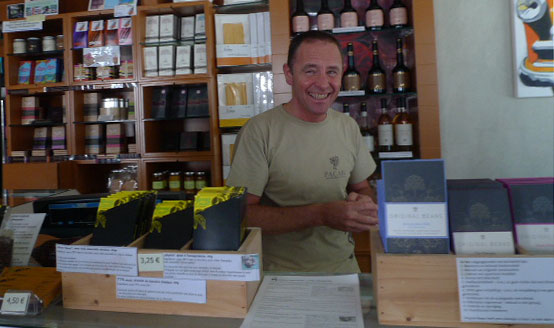 At Home Inside the Chocolate Lab: Geert Vercruysse, Kortrijk, Belgium