Kolumbia; Porcelana; Wenezuela; Ghana
by
Chris & Tom / Manufactura Czekolady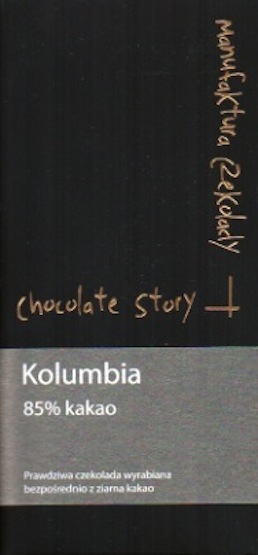 Impact
A Chocolate Blast –- 4 reviews in 1. Overall rating & metrics (upper right) reflect a composite average of each bar's individual measures.

***************************************************************************
Einstein knew everything... even the future well after his death. In anticipating the hazards of texting & driving, he said, "any man who can drive safely while kissing a pretty girl is simply not giving the kiss the attention it deserves."
The same applies to this unorthodox collection from the Polish duo
Chris & Tom / Manufactura Czekolady
.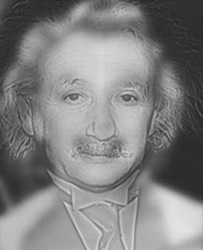 Marilyn Einstein: stand back or come close… the shapeshifting hybrid-image depends on POV & distance
| | |
| --- | --- |
| Color: | hi-def |
| Surface: | hasty… "feet" flopping over the molding |
| Temper: | wear sunblock |
| Snap: | amped |
Aroma 8.1 / 10
Kolumbia
raisin-tapenade sauce over a smoked ham stew… myum-myum to that

Porcelana
a store of dried sweeteners (or at least a cupboard's worth) built of soft wood bark
diffuses off & flattens considerably into roasted nuts & grains

Wenezuela
beautiful bed of flowers 'n cream

Ghana
natural caramel, sisal + bristling plant material
Mouthfeel 11.8 / 15
| | |
| --- | --- |
| Texture: | sandy &/or rubbery |
| Melt: | globules |
Flavor 46 / 50
Kolumbia
nuts, caraway, rye & mint (ala
Pump St.
) on a dense cocoa platform -> thin slice of ham sniffed in the
Aroma
, ditto tapenade -> deteriorates into brut carbon
Porcelana
wax -> then the
Aromatics
cereal + traditional 5-spice (especially nutmeg / cinnamon, then anise)… keeps it hanging -> gingerbread -> graham cracker
Wenezuela
fleeting strawberry blossom transmuted by some bang-on
Milk Chocolate
of appreciable now strawberry-inflected caramel -> dates & banana-toffee
Ghana
easy cocoa -> black cherry -> mite violet -> brandy wine -> chocolate cinnamon -> biscuit nougat -> coconut-almond
Quality 17.4 / 20
Kolumbia
INGREDIENTS:
85% cocoa mass, 15% sugar
Carbon starving for some add'l sugar. Strikes as unsweetened &, an austere, unevenly handled, even dirty seed-lot from
Colombia
so the 15% sugar count achieves very little other than catalyzing that overriding mentholation.
Unevolved / uninviting / unappetizing.
Porcelana
INGREDIENTS:
70% cocoa mass, sugar,
cocoa butter
The shade gives it away (very light nearing a "white brown").
Among the
spiciest
(re: sweet rather than heat)
Porcelanas
ever. Added cocoa butter initially & momentarily distracts but only very briefly & then this chocolate seasons the fat & pretty much holds it at that.
Yet another grand Porcelana -- a cacáo that rarely
comes wrong
.
Wenezuela
INGREDIENTS:
sugar, cocoa butter, cocoa mass, milk powder, vanilla
46% cacáo-content
Ocumare
Both sweet & deep. The finest exposition of an Ocumare Milk Chocolate to date. Then again, only a couple have been released; neither
Amano's
or
Duffy's
commensurate with this
venerable varietal
.
Chris & Tom
really calibrate & tweak to balance the elements that allow Ocumare's traits to shine thru the filter of milk. Indeed they synergize one another unto new heights.
Exceptional.
Ghana
INGREDIENTS:
70% cocoa mass, 30% sugar
Virtual carbon-copy of
Chris & Tom / Manufactura Czekolady's
inaugural Ghana
from 2010-11, the one featuring peach brûlée & violets. This darkens the countenance -- slightly.
Pretty manifold for a
Ghanaian cocoa
& relatively light too.
Tom & Chris
finding multiple pockets of
flavor
from an origin once considered non-complex, even monotone. It covers a fair ranging portion of the spectrum &, in so doing, lacks depth, another oddity for a
West African
which traditionally resounds to deep cocoa reverberations. Here it stays quite surface level / 2-dimensional.
In conjunction with a few other releases from the continent -- most notably
Richart's Côte d'Ivoire
-- it points to further tampering of the classic
Earth
root stock so characteristic of the region, either via breeding programs (the so-called 'Mercedes' super-seed that contains a goulash of strains) or other origins tossed into the Ghana export chain, most notably
Cameroon
.
Capsule Summary
Early on
Chris & Tom
, due to sourcing challenges, were beholden to second-rate cacáo like
Ecuador's CCN-51
. Except for the halting
Kolumbia
, a dog-mutt cacáo & an anomaly in an otherwise strong portfolio, a few years on & the upgrade continues.
Textures
a notch or 2 below world standard, perhaps by design.
All together they show that what used to be a backflush for chocolate in Eastern Europe now rises with their peers in the West as a bastion for artisan craftsmanship.
Reviewed April 13, 2015