Fiji Matasawalevu
Uganda Semuliki
India Idukki
Haiti Pisa
Viet Nam Tien Giang
+ more
by
Areté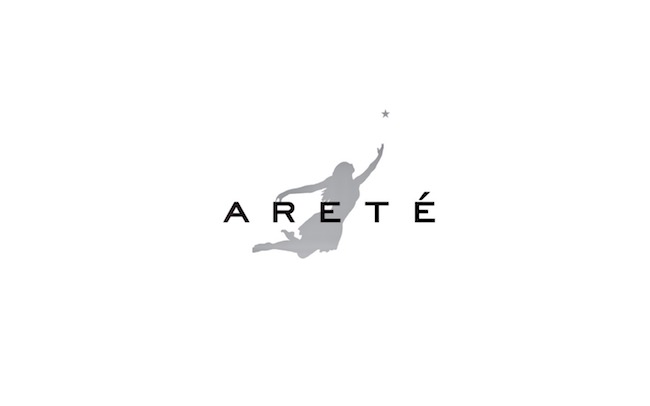 Impact
In a world & in an era of superabundance -- everything from consumer goods & gadgets, commodities galore, & now free helicopter money floating around like so much confetti -- standing out requires that that something special... extraordinary. Whether a name, a look, a consistent tick / trait, content / character, superior quality.
Areté
pretty much ticks off all the boxes. And vouches for personally. So much so David & Leslie Senk sign their names on the back of the envelope pouch in which these bars come. For
good
reason (as opposed to just being loud, brash, narcissist & annoying).
Signature chocolate. Literally. Figuratively.
They should sign right into the bars-cum-canvases themselves.
Edible art.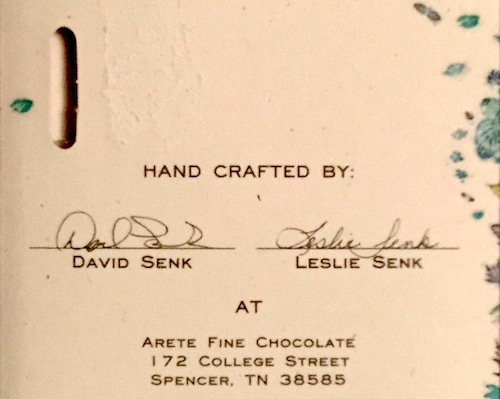 Signed by the Artists Themselves
Color:
Bolivia: mahogany-mauve
Peru Nacional: pink grapefruit brown
Venezuela Ocumare: brown crème-rouge
Haiti Pisa: an orangutan of a bar (yeah, orange tanned)
Uganda Semuliki: ferric mud
Fiji Matasawalevu: polychromatic silver-pewter / purple-dot / sienna
Viet Nam Tien Giang: true chocolate brown
India Idukki: sandalwood
Gianduia: filbert
Lavender: lavender-brown of course
Ginger Rose: golden ginger red
Surface:
pristine with just the lightest rippling on the underside
Temper:
not since Rogue's pocket mirrors have chocolate bars struck a pose / made such an impression; here in dusted matte, cosmetic / runway model quality; gorgeous
Snap:
bolt cutters in a brick house
Aroma 9.1 / 10
Bolivia
70% cacáo-content; Béniano genotype; Tranquilidad Estate
1st draft a fruit-leather without the leather... fresh as well as dried fruit backed by riparian
Earth elements
(river bed / river bank / river branches), woods on topsoil -> wafts off melon in a tea bag
sensational
Peru Nacional
66% cacáo-content; Nacional genotype; Marañón Canyon
atypical for this cacáo strain
grainy (& not the Hollywood film kind but the foodstuff -- polished rice & purple corn) + tubers (potato 'n cassava)
precious little of the tell-tale drupes that typifies
Marañón Nacional
, instead some heavy sap &, even more unusual, cinnamon red-hots
only at the back end some stone fruits emerge
intriguing
Venezuela Ocumare
70% cacáo-content; Ocumare genotype; Aragua State - Ocumare de la Costa Valley
straightforward
Venzy
for starters (cocoa-cashew) yet sumptuous (rich & enticing) -> deepens to chocolate mud pie before heading up tobacco leaf mountain a few smokes away into hillside foliage -> allspice
nice
Haiti Pisa
70% cacáo-content; Pisa / Produits Des Iles SA; Cap-Haitien)
tropical fruit bombing right out of the wrapper of this sapling (centered around pineapple & its bromeliad leaves) -> tea time beneath
Uganda Semuliki
Amelonado x various Hybrids; Bundibugyo; Rwenzururu; Rwenzori Mountain / Semuliki Forest
bursts out a chocolate berry-go-round (seemingly everyone but dingle), instantly grounded, then short-circuited toward the
Uganda
savannah
Fiji Matasawalevu
70% cacáo-content; Hybrid; Mataswalevu Estate, Dreketi, Macuata Provence, Vanua Levu Island
reserved / subdued & almost milkable
Viet Nam Tien Giang
73% cacáo-content; Tiền Giang Province; Mekong Delta; Cho Gao Co-op
deep in the cocoa forest... tall hardwoods, greens, rich loam... precious li'l florescence
black tea
short flintstone tail
India Idukki
70% cacáo-content; CCRP Amazon Complex genotype; Kerala State, Idukki District
flash tutti-frutti (R.I.Beats, Little Richard) then gets durty-dirty, muddy cocoa before straightening toward aniseed-chocolate
Gianduia
70% cacáo-content; Hybrid; Fazenda Camboa, Bahai, Brazil
big & heavy... hazelnut butter more than oil that just layers over a plank of
Dark
chocolate
Lavender
65% cacáo-content; Hybrid; Moho River Valley, Toledo District, Belize
drifts as if laying in the purpling fields of Provence, southern France but, given
Areté's
Tennessee location, probably closer to the hillside meadows in Appalachia
Ginger-Rose
67% cacáo-content; Hybrid; Moho River Valley, Toledo District, Belize
clear, clean, crystalline
Mouthfeel 11.4 / 15
| | |
| --- | --- |
| Texture: | clumped |
| Melt: | some wayward staggers |
Flavor 47 / 50
Bolivia
brown fruit, more like black fruit -- prunes & raisins trot out -> sweet black mission fig -> those riparian aspects found in the
Aroma
(here so light & mild) -> fleeting pepper -> candied frangipani (superb) -> clean potato stringency at the finish -> plantain after-taste
Peru Nacional
in another rarity for this cacáo, a caramelized cocoa opening -> straightens up to archetypal Peru Nacionalization... drupe fruits hanging out all over plus streaking grenadilla & young rum, quite the sweet cocktail tonic -> laurel -> clears away dry Vermouth milken chocolate
Venezuela Ocumare
subtle black cherry under brown sugar 'n allspice, all of it in & around a chocolate-chocolate (core basal cocoa flavor) -> fruit sweetens at the midpoint -> caramelized almond -> peach 'n peat back
Haiti Pisa
akin to its color, rolls in orange / neroli in cocoa-caramel -> underscored in sharp pine serving to pineapple, stays more resinous than juiciness -> gaseous vapors at rear mixed with trodden dirt, nothing too objectionable but detectable -> thin molasses clouds a cream-seam
Uganda Semuliki
fruit teaser... hard eucalyptus-cocoa (fab) softened by those teasers coming on to the fore as blackberry & jujube, nicely paired to a sweet, muscovado-kind of chocolate base, the match very friendly -> fruit-fudge -> faint gingerbread -> Turkish fig -> vanilla -> tremendous
Earth cocoa
at the finish -> clean smooth exit without any grip
Fiji Matasawalevu
spice fest (lite licorice / star anise - cardamon / clove -- vanilla / sassafras) -> semi-bitter cocoa core -> underlying fruit (dark & tart) gradually surfaces to the top (as a beautiful sweet tamarind-peach) -> cashew-cream -> molasses steps in for earlier licorice, commingling with that cocoa (the latter now a bit soiled & mulched) -> late grape / raisin -> evacuates tiramisu
Viet Nam Tien Giang
those chocolate woods discerned in the
Aroma
, here with creeping vines of soft berries to distill a port -> deepens et mysteriously sweetens into chocolate sherry -> crème brûlée capstone
India Idukki
soft cocoa -> sandalwood to suit this bar's color -> gentle spices (cardamom, frankincense, black pepper) -> flirts briefly with pomegranate, sifts to nigella akin to a thin blade of bitter grass which serves to offset the rest -> black tea -> resolves back to sandalwood but with vetiver
Gianduia
very distinct almost separate components.... hazelnut bits competing vs. smooth dark chocolate... the act / art of a soft chew between meltdowns allows the elements to blend into a gianduja spread across the palate to parity where, together at last, neither intrudes nor imposes upon the other
Lavender
lavender... is it an herb, a flower, a bush... none of the above.... botanically classified a shrub, but here flavors into a berry tree... full frontal, floral, sweetly honeyed yet so deftly tucked into its chocolate bed
Ginger-Rose
pretty straightforward; bright ginger thru & thru, & so sweet, just a pinch of heat, chocolate subservient in textural escort -> rose colors the profile, both darkening & ladening it, then dominates lingering aft-FXs
Quality 18.2 / 20
Outstanding.
Among the most comprehensive collections yet, featuring several underserved far-flung
origins
. Instead of the usual suspects --
Madagascar
,
Ecuador
, etc. --
Areté
explores off-the-beaten trails of cacáo for an adventurous set.
The barsmith takes a trim tact. Never heavy-handed. The FX deft with psychic sweeteners beyond sugar cane.
The only peccadillo: imperfect textures.
Bolivia
A rare interpretation & experience of this fabled cacáo. Powerbar from start to finish. No let up whatsoever. Strength in character owes to somewhat darker countenance than most Béniano-Bolivianos without ever becoming brooding or plodded. Part of a progression process from
Areté's 2018 rendition
.
Peru Nacional
Areté
sugars this cacáo up more than most. Then backs off the processing considerably. As a result it plays sassier than its 66% cacáo weight. Yes, sweet, but none too & the alcoholic analogues "mature" the personality of what customarily strikes as flouncy feminine flair. Not just craft chocolate; a designer-worthy achievement of engineering.
Venezuela Ocumare
Fab stamina / staying power. Strength as well as suppleness to attest to heirloom DNA. The kind of legacy flavor that continues to earn reputation. Here in this bar,
Areté
delivers pretty true to form for the most part, diverging in a heavier spread across the palate than other
Ocumares
. The net-net produces massive gravitas. Another blowout winner from this label.
Haiti Pisa
If the first 3 bars (all listed above) trot out thoroughbred racers, this comes along as pedestrian. Good with a welcoming entrance that then exposes shortfalls in the post-harvesting, particularly at the fermentation stage.
Pisa, less endowed with cacáo genetics & chocolate culture, thus accents its regional character more than the others in this group which emphasize their varietal / strains. In any other company or lineup this could shine on its own merits. Surrounded by such endowments, it pales by comparison. A humble orphan of sorts. Still, a quantum leap for
Haitian
chocolate from just a decade or so ago. And given its fresh manufacture date, aging would probably put it in better stead to round off & temper some of the offsets.
Uganda Semuliki
The surprise shocker of the lot. So friendly, kind & giving. A chocolate pet really. The pitch absolutely perfect. The tags identifiable & clear with no off notes. Speaks to sound methods on the post-harvest &
Areté's
usual hi-craft. Serious fun.
Fiji Matasawalevu
Pretty spirited. A hybrid that pulls at itself. Which infers some issues with this crop & techniques on the ground although, make no mistake,
Fijjian cacáo
continues to strive.
Sweet tart fruits against some acerbic Earth elements but nicely conjoined by spices as if almost too much is going on. It holds together more than well enough to keep interest. Attribute it to an identifiable Amelonado rootstock coupled with some sort(s) of
Amazon
cross that brings the acidity. Such a hybridized mix foretold in the color: that polychromatic silver-pewter / purple-dot / sienna.
Viet Nam Tien Giang
Such a unique interpretation of Tien Giang. Whereas
most renderings
of this varietal showcase innate exotic resin, spices & essences, this one draws the seed / bean closer to normalized chocolate. Rises to the level of Michelin Guide dessert-digestif. More hi-craft from
Areté
.
India Idukki
From an area of the country replete with forests & 5G! This chocolate's profile somewhat opaque in parts & breaks down a bit at the beginning of the final trimester but resolves well. A very approachable Dark bar which could serve as a gateway for fearful novices. Compared to vintages past, this shows
Indian cacáo
making strides. Given this origin's wayward past if not tendencies & how the post-harvest prep on the ground there with this particular allotment could improve,
Areté
earns its stripes on this one.
Gianduia
A hi-caliber experience as much as flavor. Straddles the tight rope to adroitly / beautifully maintain equipoised balance at the final step. Artisanship at its peak.
Lavender
Miraculously stupendous. Call it Lavender Jesus... yes, the original boy wonder who turned water into wine, this a bitter seed (cacáo) into sweet floral gardens picked for his Mother the BVM & Mary Magdalene + other groupies in his entourage. Phenomenal calibration to equilibrium, not to mention pairing (
Maya Mountain cacáo
from Belize with its intrinsic fruit analogues). Supersensory science.
Ginger-Rose
A bar that causes some pause. Flavor & feel grow a bit ponderous. As brilliant as the ginger, the rose proves, yes, complimentary yet contrary, on the verge of cross-purposes. Which still, thanks to the
Areté
standard, manages to pull off satisfaction. On top of that, a fab name for a bar. In other words, it can't be all that bad because, with a combo like that it can hardly go wrong.
Reviewed June 22, 2020