Impact
Every once in awhile... once every generation... like Frazier-Ali, Brazil-Germany, Manning-Brady, LeBron-Curry... whether 1-on-1 collisions or tag-team takedowns, they embody real-time drama rather than staged craft / propaganda.

Arguably humanity's highest aesthetic because, consider this, if no one had to work in utopia, everyone would still play like kids.

That's why certain arts & sciences & sports matter & rivet.
Appearance 4.7 / 5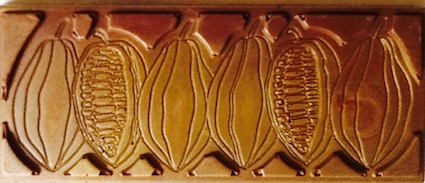 Color:
in this corner.... wearing
CREOS: luster-gold...
Milk Old School: verging on blondies-brownies
Defiant Viajero: gorgeous apri-terra-cotta
Fazenda Boa Vista: tickled pink
Dark Ecuador: mau-genta (mauve-magenta)
Surface:
weighing in....
CREOS: ... 50g pods on the trunk (see photo above)
Milk Old School: eroded....
Defiant Viajero: glamazon
Fazenda Boa Vista: meadow imprint design
Dark Ecuador: absolutely flawless
Temper:
CREOS: calm & collected...
Milk Old School: ... Tootsie Rolls®
Defiant Viajero: perfect matte
Fazenda Boa Vista: none
Dark Ecuador: recessed
Snap:
CREOS: ... & almost as silent as a sphinx
Milk Old School: quiet corrosion
Defiant Viajero: so far, this bar no wrongs
Fazenda Boa Vista: salutary
Dark Ecuador: shell-shocker
Aroma 7.6 / 10
CREOS
a candy-bakery: gummy bears & caramel in pastry-milk mix
Milk Old School
nutty for
Chuao
... coconut + peanut skins -> deep cream (rather than caustic milk powder) -> spiced sugar
Defiant Viajero
sweat stank, then inexplicably blank
Fazenda Boa Vista
a breakfast bowl of cinnamon-cereal straight from the grain silo splashing in milk
Dark Ecuador
roasted cashew & toasted coconut, rich & enticing, with soy undercoat
Mouthfeel 14 / 15
Texture:
CREOS: no powder puff
Milk Old School: gritty street fighter....
Defiant Viajero: floats like a....
Fazenda Boa Vista: velo-
Dark Ecuador: kicks ass
Melt:
CREOS: really packs a wallop
Milk Old School: .... swells with roundhouse abandon
Defiant Viajero: .... hang glider
Fazenda Boa Vista: -velvet
Dark Ecuador: measured
Flavor 42.7 / 50
CREOS
Slo-Poke
®
plods around toffee for a good long while with peek-a-boo fruits in the backdrop -> a bit of heavy cow's foot but only momentary as
Marañón's
sweeter folds break thru, however subdued, as peach-MilkDud
®
!! -> soft white-petaled bouquet at the rear
Milk Old School
blueberry fudge brownie -> chocolate cream -> shifts to momentary cupcake before berries keep dropping for a chocolate-chip blueberry cookie -> twisting caramel
Defiant Viajero:
sweet cream -> Mallo Cup
®
-> biscuit -> fleeing starfruit
Fazenda Boa Vista:
rapid cream jab followed by a caramel uppercut combo -> steadies into a fruit-laced cashew (basically biriba & abiu with a li'l caja thrown in) -> inga-cipo custard -> hickory & chestnut
Dark Ecuador
soft bite on so-called palm nectar (sugar) -> softer still coconut-caramel -> minor back bitter gentian root (perhaps the influence of whole vanilla added) -> cookie cream fill -> amber honey -> cashew -> buttered popcorn brittle -> dark graham cracker
Quality 16.1 / 20
CREOS
Barsmith
:
Dancing Lion
via
Fruition
Source
:
Marañón Canyon
,
Peru
Varietal
:
Nacional
Cacáo-Content
: 72%
Batch
: 6-17
Strangely flat-footed for the percentage.
Marañón's
high register tags just glimpses darting in & out until the finale (albeit quite spectacular at that). The agility exhibited by the
68% Marañón Dark-Milk
from
Fruition
(the actual
barsmith
here too) feels, again, underfoot in this to milk solids &
cocoa butter
fat. Because this slowly sneaks up & keeps to a milk countenance for much of the length, it positively provides an effective bridge for those who typically avoid
Dark
chocolate. In that respect
CREOS
is one sly contender.
INGREDIENTS:
cocoa mass, sugar, milk powder,
cocoa butter
Milk Old School
Barsmith
:
SOMA
Source
:
Chuao
,
Venezuela
Varietal
: Natural Blend
Cacáo-Content
: 38%%
Batch: MOS60406.0
Sensationally unintegrated construction (cocoa, dairy & sugar crystals coarsely ground / unrefined) yet flavor not disintegrated at all. Just the opposite: these 3 keys to the recipe stack for huge impact notwithstanding a relatively paltry 38% cacao-content (about half the
CREOS
, above). Then, again, the cacáo is powerhouse Chuao. Even the
Texture
forms a paradox... melt-free essentially but round & enveloping.
Further, though cream evident aplenty, a generalized
Dark
countenance attests to Chuao's might so that this best slots the
Dark-Milk
category (which usually
starts
at ~45%).
Formidable & fantastical.
INGREDIENTS:
cocoa mass, sugar, milk powder
Defiant Viajero:
Barsmith
: Durci
Source
: Chuao, Venezuela
Varietal
: Natural Blend
Cacáo-Content
: 40%%
Batch
: Sample Prototype
Some consider adding milk to Chuao cacáo worse than a hell of beans but a sacrilege tantamount to pouring Moët in a mimosa. Oh, well, it's
Durci's
cocoa & it can do whatever it wants with it. Besides, chocolate's malleable like that.
And too Is this even Chuao? Who knows.... more appears on the spot specialty market than can possibly be cultivated on the ~750 acre estate.
Whatever, precious little sign of any Chu-wow. Maybe the milk & refining rubbed the impressions away. All the treatment makes for great
Texture
.
And a good, if conventional,
Milk Choc
nonetheless.
INGREDIENTS:
cocoa mass, sugar,
cocoa butter
, whole milk powder
Fazenda Boa Vista:
Barsmith
: Soma
Source
:
Brazil
Varietal
:
Amelonado
(
Parazhino
)
Cacáo-Content
: 55%
Batch
: BahM60413.0
Unlike Soma's crude
Mil Old School
bar (above), this one received the full spa treatment -- massaged & caressed to the
n
th
& then some. And while less expressive too, it engenders a cream & cocoa bath rippling with dappled fruit aromatherapy on the tastebuds. There comes a point in the craft when all the logistics, mechanics, techniques et.al. rise to the transcendent level where the chocolate gods take interest to alchemize the outcome. This is that bar.
INGREDIENTS:
cocoa mass, sugar, milk powder,
cocoa butter
, salt
Dark Ecuador
Barsmith
: Charm School
Source
:
Camino Verde, Balao
,
Ecuador
Varietal
: Hybrids
Cacáo-Content
: 64%
Batch
: May1
The heaviest weight of the bunch & an outlier of sorts: a) less
pedigreed than the others (
CCN
among the mix at Camino Verde); b) the most manipulated / doctored ferment of the set; & moreover c) non-dairy coconut milk in the formulation.
The key to a great MC equilibrates the various components, more manifold than simple 2-ingredient
Dark
chocolate of cocoa + sugar, in an elaborate
flavor nexus
.
As Csikszentmihalyi, in his science of flow, subscribes to ever increasing complexity tending toward both continuous differentiation & integration. That is, differentiation refers to the degree to which a system composed of parts (be it a family, a nation, a corporation, or a humble bar of chocolate) differs in structure or function from one another. Integration refers to the extent to which the different parts communicate & enhance one another.
Charm School
achieves as much with a flurry of ingredients well matched & quite original in outcome. For instance, the dry Camino Verde cocoa substrate frames a seemingly caustic vanilla, sweet coconut, & salt to mineralize some lift.
INGREDIENTS:
cocoa mass, sugar, coconut,
cocoa butter
, sea salt, vanilla
SUMMARY
Hardly a controlled experiment since several variables went unfixed. Some may point to unfair advantages. Example:
Chuao
hosts a dozens of diverse varietals versus Marañón's singular genotype (
Nacional
).
All things being equal (which they aren't). a clear champ emerged in this league. To find out which one, click on bar image, upper right.