Baumkuchen
Belize
Congo
Ghana
Philippinen
Marañón
+ Flavored Bars (& more...)
by
Georgia Ramon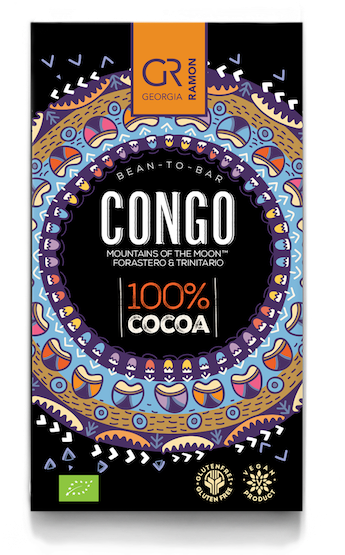 Impact
A package arrives — unsolicited. In this age of terror, that makes you suspicious. Compounding the matter, there's no return address other than 'Germany'; now you're nervous. Trump, of all people, starts worming thru your head about unfettered & un-vetted immigrants in the heart of Europe. You can dial the EMS / crime-stopper 9-1-1 number. But what if the contents are harmless, even trivial like those fast-food annoyances calling into 911 because their burger or burrito wasn't served right, they want a refund, & the drive-thru attendant refuses. On the other hand, maybe the box contains contraband, the kind of stuff that drives Interpol to knock your door down. Before long, you're on an episode of
Locked Up Abroad
.
Oh what the hell, throwing caution to the wind, you take your chances.
First, sniff around the edges to detect possible foul play. This passes the smell test.
Next, carefully work the knife blade to pierce the heavy-duty shipping tape. Slowly lift the lid, if only partially, to allow a sneak peek. Nothing definitive yet.
A little more… & more… then, BANG, that percussive waft of chocolate smacks your nares & you're on safe ground again. Overcome with delusional PTSD but safe.
Below are 2 separate rounds of
Georgia-Ramon
chocolate -- one from Summer 2016 & the second Winter 2016
*****************************************************
Years ago this site chronicled the demise of the once-great
Coppeneur
that rose to the pinnacle of craft chocolate. The usual trajectory of such decline sees product(s) from a candy giant making too many compromises with cheaper ingredients & formulas until consumers gradually notice then lose interest entirely, followed by being quietly discontinued.
Coppeneur
instead deteriorated abruptly, its descent coincided with the departure of executive Georg Bernardini.
Since then Georg traveled around the globe to survey
the world of premium chocolate
. He wrote books about the whirlwind tour. One them
Chocolate: The Reference Standard
.
Say what anybody may about the title & the contents, Bernardini's compilation is without doubt herculean & almost without peer; nothing quite so extensive & exhaustive like it exists (ahem, save for
the C-spot
™!).
FULL DISCLOSURE:
the C-spot
™ consulted on the book & contributed minor entries to it. Plus, it played a small role in naming this company:
Georgia-Ramon
, an eponymous twist on the 2 principles -- Georg & partner Ramona -- a trans-fluid brand for these times.
Simply put, Bernardini possesses, arguably, a most singular perspective on chocolate of anyone alive today. Among his many responsibilities at
Coppeneur
, he acted as sourcing manager, visiting multiple origins & interacting with recognized specialists. He got his hands dirty in the field. Beyond that, he stands alone as the only one among the public chocolate commentariat (educators, authors, spokespeople, bloggers, bigmouths, egos, A-holes, F-heads, incest bastards, et.al.) who actually makes chocolate (working from the raw material cocoa seed / nut) & runs a commercial enterprise that sells it! It's easy to make pronouncements &/or lurk behind a label for a fee telling someone else what to try; it's a whole other thing to make the actual goods & take a risk by opening a business yourself. In other words, the guy has his own skin in the game & puts his neck, tongue, heart & guts on the line, in addition to his bank. Oh, BTW, it's pretty damn good chocolate too.
Bottom line: if his isn't the standard reference, whose is?
Since launching in 2010, this site has engaged in more than its fair share of intramural skirmishes & amateur criticisms. And, in hindsight, often regrettably so. A declaration made without any nervousness for being 'the most hated site in chocolate' (unafraid, like Gen. Alvaro Obregon, of enemies who attack) but for the harm &/or hurt it may have inflicted to anyone on the receiving end of the critiques because, frankly, most others are less bulletproof. That's fine; that's human; that's the side to be on. To now excise the glaring harsh expositions amounts to a painstaking task currently beyond reach; one that would remove much of the total content herein! Short of deleting the whole site (with the caveat that nothing ever fully disappears from cyberspace), it will for the time being simply reflect, in those poor instances at least, the maturity & mentality of an adolescent brain inhabiting an aged body. That they remain online, for however long, should be viewed as an example of what not to do.
Bernardini embodies Spencer's maxim that the point of knowledge is not to sound off like a Mr. or Mrs. Know-It-All but to put what one knows into action. And, in the case of
Georgia-Ramon
, serve as a pleasure merchant for people's organic enjoyment. In the 21st Century that borders on a radical quest when too many sit addicted to their digital crack, sucked in the matrix, awaiting AI to eventually & perhaps unsuspectingly boss them.
His trailblazing example will inspire others to follow the lead &, with the accelerated interweb-of-things, soon. Until then consider him that rarity – one of a kind.
Coppeneur
broke hearts before it died. Luckily it now isn't missed because
Georgia-Ramon
carries it forward with this startup label.
Due to the interaction of
the C-spot™
with Georg Bernardini, these bars reviewed below are unrated. Safe to state, however, they collectively rise to the upper echelons of the craft & several individually to the very top tier. Major, massive hits with but a couple misses.
| | |
| --- | --- |
| Color: | -ful |
| Surface: | thick / viscous; defaced only minutely; |
| Temper: | semi-sparkle |
| Snap: | delicate (an effect of the cooling system employed) |
Aroma -- / 10
theater candy
jams
cocoa nuts
pastry dough
stinky drupes
Vienna cafés
hellacious peppers
toasted vegetable oils
to be continued... in Flavor section (below)
Mouthfeel -- / 15
| | |
| --- | --- |
| Texture: | granular... a function of Speed-Chocolate (no bar refined more than 24 hours in order retain concentrated flavors) |
| Melt: | swollen |
Flavor -- / 50
Baumkuchen
German for 'tree-cake', so christened because its shape resembles the transverse rings of a cut tree, re-translated here 'The Baum' as in da Bomb.
GR
just detonates flavor in this ordnance. Makes perfect sense too since Bernardini sharpened his skills years back as a pastry chef.
Spongey angel-food cake quality, very modestly sweetened to impart a savory grain FX, underscored by its gluten-free recipe.
Chocolate Baumkucken
if the above Baumkucken flirts toward vanilla, then this chocolate version blows up the A-Baum of kucken, 'A' for Auchtung in
Georgia Ramon's
native German tongue... like, yeah, this is IT, baby; no, angel food cake but virtually a tiramisu instead.
ashes-to-ashes, dust-to-dust, pollen-to-pollen, mold-to-mold & gluten-to-gluten... for the person allergic to everything, try this cake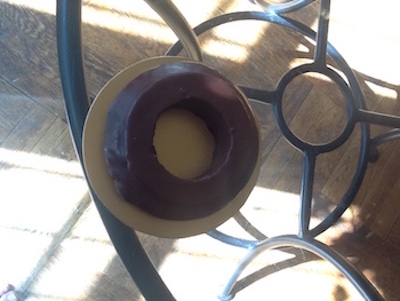 DARK ORIGIN BARS -- SUMMER 2016
Belize 100
unsweetened yet still sweet!
malted jam set in
Earth
werks -> mineral quartz shaft & magnesium, quite pronounced but quite butterfull to restrain them -> turns to bitter salad greens -> nut skins
definitely potent, barely palatable (could benefit from a higher roasting point), & a clarity of purpose: Bernardini never one to back down from the barking demons of
cacáo
-- witness his
Rottweiler of a bar
while at the helm of
Coppeneur
.
Belize 70
jamming good on the drop-in... sweet red grape lays into rich cocoa of an Earthen edge -> mamey sapote burst -> allspice cookie 'n Port (the adult version of bedtime cookies 'n milk) -> vanilla-fig finish -> gingerbread in the aft-draft
The upside of
GR's
light roast on these
Belizean seeds
leaves lots of volatiles for sugar to catalyze. And what a catalytic conversion.
BiG voluptuous
Flavor
+
Texture
too to suit; a tremendous bar verging on phenomenal. Sourced from the TCGA in a contrary move to all the
Maya Mt material
piling up on the specialty store shelves.
Ghana 90
rips in torrefaction -> butter -> then those disorienting powdered flowers coming from
Ghana
as of late
(utterly out-of-place & ill-fit) -> haystack -> lays down a moss trap -> ground nut
bizarre hybridization, summarily discounted because at 90% this bar holds its ground exceedingly well
Ghana 70
biscuit cream -> ground nuts, almonds, & kola spice nut (nice) -> roasted cocoa counter to sugar streams -> vanilla (none added) -> dry cocoa syrup
The combination of what feels like a warmer roast + the add'l 20% sugar really snaps this chocolate into a more customary alignment for the
origin
: a chocolate-chocolate.
From the
ABOCFA Co-op
in Ghana.
Philippinen 80
graham cracker beginnings -> subtle but true Nutella™ spread -> streaking white fruit preceded by its petals, first rambutan, then durian (without its caustic components), quite mild yet enveloping -> the cream of mabolo aka velvet apple -> dark toffee -> mocha in the down shaft
Easy for an 80%.
GR
making it taste so easy.
From the good Bromans of Rex Puentespina & associates at
Malagos
in
The Philippines
. They partner with Mars Cocoa Development to harvest a bevy of
cacáo
hybrids sporting automotive model names like UF 18, BR 25 & PBC 123 -- just a small clinical taste of the burgeoning types that now dominate the field. The vast majority bred for productivity rather than
flavor
. Save for these apparently.
Neither a powerhouse nor a vast array of tags. Just so well pointed / appointed. Like
Ghana 90
(above), well-mannered & considerate too.
Philippinen 70
vanilla mocha caramel in a reverse layup on the
Philippinen 80
(above)
10% add'l sugar exacts more of the pyrazine class of bio-compounds found in cacáo => mite licorice
Marañón 70
vanilla-cherimoya (fairly unusual for Marañón) => creamy hearts of palm => gradual slope to stone fruits, the flesh right around the pit => green walnuts & leaves => thin stringent café
An
origin-varietal
that counts its fans & foes. Some consider it the most feminine of all
cacaos
; others the most unstable diva. Either way, undeniable traits. This less strafing acidity than typical which rounds it appreciably thanks to an upper medium roast + vigorous if short refinement.
DARK ORIGIN BARS -- WINTER 2016
Brasilien
Bahia; Fazenda Camboa (officially listed as '
Trinitario
' [re: anything / everything] though the property hosts substantial
Contamana / Scavina
; hence the floral-honeys -- see below)
70% cacáo-content
over-ripe brown fruit on the nose, & not uninviting at all, + forest honey... the tongue reveals that resinous brown fruit to be chocolate Cab (-ernet... deep
vitis
) & little else but a steady stream of it which adds up to a lot -> jackfruit -> cashew -> honey florescence -> candied raspberry tail -> cabelluda aftermath
Exceptional reserved depth for a
Brazilian
with strong core chocolate tags (nothing unusual there from the probable home base of
Amelonado
). Wide cross-palette appeal.
Haiti
Produits Des Iles SA (PISA)
80% cacao-content
from the same co-op that
Taza
excelled in an
84% rendering
; this far different in character (possibly due to vintage /
seed lot
)
foretaste of dirt-tabac tongues-up the same then figs-up before hitting on licorice... holds its ground... forevermore 'til a nut close
Congo 70%
Rwenzori Range; Virunga Natl Park; Mountains of the Moon
twists right in a bluestone jujube fruit -> sweet cocoa apricot -> tannic brownie hit -> star anise -> rents out fig
One of the more streamline renderings of Clemens Fehr & his Mountains of the Moon venture in
central Africa
. The kind of bar to woo even some cocoa locos while magnetizing the masses. As such, a mean standard bearer.
DARK BAR INGREDIENTS (above):
cocoa mass,
cocoa butter
, raw cane sugar
Congo 100
aromas of stoned cocoa, mountain bush, & rhino skin buttered-under in taste itself... for only the first trimester, whence those & other impressions assert themselves, including a considerably lengthy bitterness of the good
Earth
variety -> apricot kernels -> cherry pits -> fine savory tip at the very tail
INGREDIENTS:
cocoa mass
MILK CHOCOLATE ORIGIN BARS -- SUMMER 2016
Marañón 60% Vollmilch
absolutely stunning orange-pink blush to the color & the scent just creams it on which lays it on the flavor:
thick, turgid toffee-caramel... Sugar Daddy / Milk Dud™ combo-candy, suffocating in its density traps... virtually no sign of the underlying cacáo, now well mummified in the soft tissue of mammary glandular
Texture
-> rinses out saline solution
Indelicate treatment of this aforementioned flower which barely breathes beneath the cream in stark contrast to the gold-standard for this cultivar in milk stockings -- the
68% Fruition
INGREDIENTS:
cocoa mass,
cocoa butter
, whole milk powder, raw cane sugar
MILK CHOCOLATE ORIGIN BARS -- WINTER 2016
Brasilien Vollmilch 60%
utilizing the same Fazenda Camboa cacáo in the aforementioned Dark bar (above), this
MC
nails deep Slo-Poke
®
impressions on the tongue & keeps hammering away thru layers of bahri dates, dried black royal mulberries & straw to a chocolate pound cake bender ender; a heavy metal Milk Chocolate
FLAVORED BARS -- SUMMER 2016
Halen Môn
70% Dark Chocolate sprinkled with Halen Môn Anglesey sea salt
these famed salt flakes noted for their croissant pastry-like crunch goes largely missing here but the flavor never wavers; so mineral laden, particularly zinc that absolutely savors the chocolate bed, turning it into a dish in addition to a sauce; exceptional match & proportions
INGREDIENTS:
cocoa mass,
cocoa butter
, raw cane sugar, Halen Môn Anglesey sea salt
Malabar & Kubeben Pfeffer
70% Dark Chocolate sprinkled with Peppers
Malabar belongs the black pepper family while the tailed Cubeb forms its own species
fragrant, well like just about any pepper, but also surprisingly floral accompanied by an undercurrent of sweet allspice -> ginger-bananabread! -> tolerant throat-catching heat at the back recoils to tingle the tastebuds
GR
contains the pepper fire in chocolate & cocoa butter without sacrificing their aromas; another measured fusion
INGREDIENTS:
cocoa mass, raw cane sugar,
cocoa butter
, peppers
Carolina Reaper
G-R
duly forewarns that this descent into flames contains the dreaded Carolina Reaper chili, reputed to be a 5-alarm pepper / the hottest on the Scoville heat index if not on Earth.
This insufferable bar begins in a blazing torrent & ends in total conflagration of the senses.
For hardcore masochists only. Have plenty of add'l cocoa butter &/or cream on hand to prolong survival (however temporary) & balm the burns (non-fat liquids only magnify the PAIN, pain among the ingredients which
G-R
lists in a diabolical sense of humor).
At just a merciful 0.3% of the total contents yet it still sears & scalds all in its path.
Makes by comparison Lillie Belle Jeff Shepard's
DO NOT EAT THIS CHOCOLATE
(another self-immolation via chili meltdown) cool as ice-cream. Indeed, once ensnared in this insanity, the only stop left is the Grim Reaper because EMS paramedics have no antidote. Absolutely not for the children nor any living creature for that matter.
INGREDIENTS:
cocoa mass, raw cane sugar,
cocoa butter
, Carolina chili powder, pain
Kaffee & Kakao-Nibs
no, taffy-heads, no that but the old standby coffee & cocoa combo drenched in 55%
Milk Chocolate
the aroma itself presents a salivator, soon confirmed on the tongue with sharp 'n sweet coffee berry of citrus-like acidity carries flavor forward & over the
Milk Choc
base which, in turn, holds back until its own a fruit flush passage joins the party, accentuated by micro-crunch
Nibs
to crescendo at a banana-praline mocha; & not just any café --
Bench Maji
(the progenitor forest in Ethiopia of all coffee?) hooks up with a fab
D.R. cacáo
; simultaneously festive & serious at the same time (to redundantly reinforce the FX); among the finest coffee chocolates ever
INGREDIENTS:
cocoa butter
, cocoa mass, raw cane sugar, coffee
Pistazien Vegan
needs no translation
slow starter, both in
Flavor
&
Texture
release... check that, very slow starter.... extremely slow... finally the sweet meats of pistachio bathed in almond milk turn the trick with relish, errrr, salt in this case which spikes it up for some lasting staying power to equal & possibly exceed the buildup to the development; quite the confluence
INGREDIENTS:
cocoa butter
, raw cane sugar, cocoa mass, de-fatted almond powder, pistachios, salt
Brokkoli & Gesalzene Mandeln
broccoli & salted almonds in
White Chocolate
? Huh?
And the taste? Baby bottle pablum. Which misses the point. About as functional as can be, a complete meal really. Winds up respectable with almonds driving the flavor. Oh, vegan too.
INGREDIENTS:
cocoa butter
, raw cane sugar, de-fatted almond powder, dried broccoli powder, almonds, salt
Vanille
G-R
states the obvious that most try to conceal: viz.,
White Chocolate
in the main equals a vanilla-flavored confection.
This one of 42%
ccocoa-butter
content.
Besides the vanilla, the formulation really lets the raw cane sugar sparkle thru.
Like the
Brokkoli & Gesalzene Mandeln
(above), a li'l early onset baby formula, browns up nicely into birthday cake vanilla frosting, then the full orchid with citrus lemon shine.
INGREDIENTS:
cocoa butter
, raw cane sugar, whole milk powder, vanilla
FLAVORED BARS -- WINTER 2016
Brennnessel
Green chocolate, anyone? Spooky as Halloween.
White Chocolate base; very milk-centric notwithstanding the a) stinging nettle (hence the green thing) & b) 14% almond flour (to buttress the dairy FXs).
Herbal med at its sweetest.
Mandeln & Kürbiskerne
a Dark 50% cacao-content + almond & pumpkin seeds to mimic a vegan Dark-Milk chocolate; so precisely aligned, seamlessly really, save for the micro-bit nuts lending a Textural contrast; superfine craftsmanship or, being
Georgia Ramon
, is it craftwomanship. OK, craftpersonship.
Tomate
whether tə-mā'tō, tə-mä'tō or, in this case, just tə-mate,
G-R
just bombs it with precision targeting starting on a mustard-carrot color (rare; unusual), a vegan formula (cocoa butter, sugar, tomato, coconut, salt) & a V-8
®
flavor concentrate to deceive that one acquires the RDA of vegetable servings in this very bar; to health & wealth & good taste
Rote Bete & Kokosnuss
Jesus, this
Georgia-Ramon
becoming the new Zotter of zoned flavor
beet root & coconut? sounds funkier than it tastes
beets of course one of the many sweeteners thanks to its high sucrose content since at least the 1700s
this bar shines a gorgeous crimson-vermilion color on a very studied flavor profile;
G-R
measures well, deftly balancing the White Chocolate base to both cane & beet sugars in addition to the coconuts chips that lend textural contrast against voluptuous cocoa butter; one of those head-scratching bars to think 'hey, why hasn't this been more done before'?
GR[EAT] SUCHTI SERIES
Wilde Bergmandeln und Himbeere
-- chocolate-covered wild mountain almonds splashed with raspberries; a direct 1-2-3 hit of the 3 ingredients, no questions asked or heads to scratch;
suchti
= junkie & addicts beware
Karamellisierte Haselnüsse
-- big fat round whole hazelnuts caramelized in milk chocolate; basically a solid (in more ways than one) form of giandujia
Weisse Maulbeeren mit Brombeere
Blonde mulberries with blackberries... an unusual blend yet logical as White Chocolate bridges the acidity of blackberry to the caramel-tone of mulberry
Quality -- / 20
Über level of detail across the board:
the striking, eye-frapping visuals to the A-1 packaging;
choc full of data;
plus a resealable wax paper inner sleeve;
the
Minimal-style mould
quite attractive; the actual moulding slightly imperfect.
The liner notes read so damn accurate that tasting becomes unnecessary! Very helpful to entrain the hypercritical conscious mind to shut off in favor of just receiving / perceiving unfiltered. The equivalence of presence. 'Supersense' -- the ability to stop making sense.
Flavors are quite good; a couple outstanding, especially for high
cacáo
-content. That aside, the complexity of the bars is relatively confined rather than broad.
One quality about
G-R's
generalized M.O.: it utilizes only best available ingredients. Which makes it difficult for outcomes to fail. Doubly so given the experience & expertise of Georg & Ramona.
Texture somewhat granular but the melt swells up nice & round.
All-in-all, strong craft & world-class.
Georgia-Ramon
... the Mercedes-Benz of chocolate. On 2nd thought, given the speed which
G-R
set up operations & conches bars, maybe Porsche is more apt
Reviewed June 23, 2016
Revised October 19, 2016