Chuao
Haiti
Jamaica
Guatemala
Schattenmilch
Pfifferlinge
Suchti Line
+ more...
by
Georgia Ramon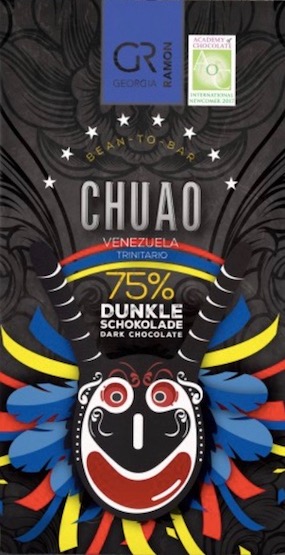 Impact
Easy in a time of evermore inspired propaganda, stealth surveillance tech, fabulous wealth concentration, negative interest rates, extreme natural disasters, amped violence, shameless cross hoaxes, superbugs, killer germs & failing antibiotics, + a freight of sundry ailments besetting humanity to despair.

Yeah, with Eloi (re: "elites") like these, extinction is a foregone conclusion. The question is simply when the 'super class' starts going underground & turning into Morlocks. Singularity Moment? Oh, they already have!

Take heart y'all… for the world according to Georgia-Ramon: flavorful indeed.

Maybe that's why there's chocolate.
Color:
Chuao: crimson tide
Guatemala: deep-stated anthocyanin
Mexico: deadpan brown
Jamaica: apricotta
Dominikanische Republik: brown beauty with a touch of pastel orange-pink
Peru Weisse: Nib-spangled lemerald (sparkling lemon-lime)
Schattenmilch: only the faintest clue that this contains any milk at all
Ziegenmilch: classic saddle brown
Haiti Vollmilch: beachfront burnt-orange
Espresso: dank brown
Pfifferlinge: shiitake brown
Limette & Thymian: ivory lime
Kürbis & Curry: mustard
Erdbeere & Joghurt: scarlet
Surface:
pro grade
Temper:
shifting glistening
Snap:
leans limp
Aroma 7.9 / 10
BARS:
Chuao
(Diablos Danzantes & San Juaneras,
Chuao
, Aragua Valley,
Venezuela
;
Criollo
-hybrid family; 75% cocoa-content)
bi-polor: thick substrate (dirt / soil / natural tar pit) + ripe stratos (tell-tale Chuao blueberry)
Guatemala
(Cahabón Estate, Alto Verapaz,
Guatemala
; United Fruit hybrid genotypes; 72% cocoa-content)
remarkably closed
Guatemala Vollmilch
(
Dark-Milk
; 62% cocoa-content)
a milk of cream cheese density
Mexico
(
Soconusco
;
Criollo
; 76% cocoa-content)
another
CentAm
lowrider (see
Guatemala
above) that bounces up a light fruit blossom cocktail
Jamaica
(St. Mary, Clarendon, Hanover & West Kingston;
Blend
; 74% cocoa-content)
again generally quiet, even mute bar out the wrapper (something due to the waxed paper?)
Dominikanische Republik
(Öko Caribe; hybrid genotypes; 72% cocoa-content)
finally, a deep vein thrombosis, in this case molasses tobac café -> lightens up some on spice-pudding
Schattenmilch
(Öko Caribe,
Dominican Republic
; hybrid genotypes; 75% cocoa-content)
as if the German
Georgia Ramon
crosses the western border into French toast & crème fraîche territory
Espresso
(Öko Caribe,
Dominican Republic
; hybrid genotypes; 70% cocoa-content)
beyond coffee, beyond even espresso, a dark musk
Haiti Vollmilch
(Pisa / Produits Des Iles SA; Cap-Haitien; Hybrid genotypes; 58% cocoa-content; Dark-Milk Chocolate)
cocoa voodoo: more rum than milk, more cardamom than chocolate
Peru Weisse
(45% cocoa-content)
another depth charge hits a deep wellspring of cardamom, plant roots, & minerals
Ziegenmilch
(55% cocoa-content -- primarily
cocoa butter
)
concentrated cheese with a tang top
Pfifferlinge
(72% cocoa-content; 11% chanterelle)
pink peppercorn backed in cinnamon red hots
Limette & Thymian
thyme all-time
Kürbis & Curry
turmeric - pepper
Erdbeere & Joghurt
cotton candy!!!
SUCHTI
generally understated to belie their ingredients
Mouthfeel 12.3 / 15
Texture:
Bars: granular (thanks to many being Grind-only / no Conche)
Suchti: material-dependent (from crunch to gummies)
Melt:
Bars: on the drier side befitting their micron size
Flavor 45 / 50
BARS:
Chuao
sudden impact: flash blueberry crashes then sinks into a tar-inflected cocoa pit, sticky yet inviting... fruit manages to stay afloat as a dried apparition of itself -> prune outtake + incredible aft-FX -- herbal greens / toasted breadfruit / sweet plantain
Up-roasted & vigorously processed judging by taste & texture, the latter ultra-smooth / even but ponderous as though over-battered. This being
Chuao
, it can take it! And, better yet, still give back.
Guatemala
warm spiced-walnut fudge brownie -> sweet breadfruit meets slightly bitter tannic cocoa -> recessed moraberry -> clean stringency to finish
Ground to a fine granular texture for 72 hours then moulded & set without any conche time. Phenomenal steadiness & stamina. Constant throughout save for minor flavor detailing / offsets along the progression. A sound batch from the good growers at
Cooperative Fedecovera Q'eqchi Mayas
.
Guatemala Vollmilch
grass-fed cows milk up a straw-hay cocoa -> umami points -> black mulberry -> toffee caramel -> cardamom
So honest in formulation & delivery. The basic battery + whole milk (no vanilla). Genuine. Understated for a 62%
Dark-Milk
, supple in its cream-folds. Superb.
Mexico
pure chocolate, light yet dark (palette vs. personality) -> monster cashew-cream wall -> beautiful papaya, then peach, & fleeting lychee -> biscuit -> spice flush (sassafras / tonka / anise seed / epazote) -> sweet tamarind
Faithful to the proud heritage of
Soconusco
& the likes of other great chocolate -- exemplified in the modern era by
Bonnat
-- made from this historic cacáo grove over which an empire went to war. Incredibly round, both in flavor & feel. So benign for 76%, or any percent. Greatness re-affirmed.
Georgia-Ramon
, a gastro-justice warrior!
Jamaica
resplendent from the start... cinnamon -> graham cracker -> flirty peach overtaken by carob -> star anise -> soft cedar -> mocha drips to the end
Jamaica
, miss ya. So neglected all these years by most
barsmiths
. Shame. Kind & gentle but with backbone. These cocoa pulled from a handful of districts treated to a central fermentation that includes a modern update on foot-polishing of yore -- re: machine buffed. Nice. Call it Spa Chocolate. Taste the relaxation, the serenity.
Dominikanische Republik
palm caramel-molasses tones edged in honey
Flavor stasis, hits & sticks its taste point & that's it, largely (entirely?) attributable to date-sugar as the sweetener instead of cane sugar. The result: profile rests on the sweetening agent laying into the cocoa origin which, here, is effaced, suffocated & buried. A rare miss for
G-R
but an 'A' in this Buddhist era of 'mindfulness' for Aspirational intent.
Schattenmilch
stern / austere start... bitter cocoa, quite unsweetened -> plods along (both Texture & Taste) into thick dark caramel -> sweetens slightly as milk sugars approximate twisted toffee -> umami pings off the side walls turning bitters savory -> new sensation: milk-mud cake onto a cheese poundcake
Unusual to say the least & state the obvious.
Schattenmilch
translates from German into 'Shadow Milk'. This the same cacáo as the
Dominikanische Republik
(above) except unsweetened (save for milk lactose sugars). A formulation similar to
Santander's Mayan Dark
.
Shadowy indeed. Never alights whatsoever. Brooding thru & thru.
Perfect for listening to DRE Beats with some sad-rap on, mulling over anxiety, depression, ennui.
INGREDIENTS:
cocoa mass, whole milk,
cocoa butter
Espresso
coffee in, espresso out -> late-breaking sausage
The 3rd in this D.R. trio (
Dominikanische Republik
and
Schattenmilch
above). Coffee really wakes up the bar & the origin. Wall-to-wall. As noted many times on this site, cacáo / cocoa / chocolate is potent but fragile. 9% coffee berries herein -- while just a fraction at roughly .1 (one-tenth) the entire recipe -- just annihilates the substrata. It chokes cocoa off. Typically any amount over 5% adds up to overkill. Then again,
G-R
aptly forewarns by calling it
Espresso
so it lives up to its billing. Still,
G-R
might consider the
Jamaica Blue Mt
it had a hand in during a prior chocolate incarnation at
Coppeneur
& tweak the blueprint here.
That aside, for those who wish to skip their morning cup, this serves as a very suitable substitute.
Haiti Vollmilch
medjool dates & tamarind -> pulled caramel -> brown butter -> almond -> clove -> candy corn
A tremendous MC (
Milk Chocolate
). A bit simple & simply great. No let ups or let downs; none; absolute zero. Succulent, generous, & fulsome in flavor & body.
Haitian cacáo
the last few years has come on strong & this reaffirms as much.
Peru Weisse
authentico cocoa butter hit -> milk solids hard on its heels -> vanilla frosting before Nibs contribute growing chocolate bite -> chocolate milk -> clover honey -> melted butter-pecan ice-cream
A single-origin
White
in the grand tradition of
Venezuelan Icoa
or
Conacado White from the D.R.
. Plus, replete with
Cocoa Nibs
to harken
Askinosie's seminal configuration
for the ultimate in a chocolate bi-polar joint order.
G-R
executes to near perfection. Hardly a wobble; just a crunch (from the Nibs) & mite caustic tag at the early frame (from the dairy).
5-Star material.
Ziegenmilch
instant caramel with subtle sour edge + a sodium spike (nice) -> buttered cocoa -> Milk Dud
®
Nothing complex. Direct & to the point.
G-R
soft pedals the goat milk which can dominate a chocolate if unrestrained. Here only 15% of the entire formula comprises goat milk, further assuaged by the mild Saanen breed of them from renowned Dutch farms. In addition,
G-R
surrounds it with copious cocoa butter (far more than cocoa mass). The total gestalt barely tastes of goat at all which, again, can be quite strong & overbearing. Assiduous sourcing & implementation make for a fab
Milk Chocolate
-- goat, cow,
sheep
,
horse
,
camel
or otherwise.
Pfifferlinge
brown sugared cocoa -> flickering pepper -> slow chanterelle emergence -> black cherry top
Chanterelle in the guise of a fruit-spice so well-matched to the underlying cocoa that
G-R
achieves virtually seamless integration. Masterful.
Limette & Thymian
White Chocolate putty -> clash twixt the herb & the citrus, thyme vs. lime &, though they rhyme, they barely sing & certainly can't harmonize... one succulent, the other astringent... while cocoa butter (i.e., White Chocolate) strives to referee the melee
A bold attempt / spectacular failure
Kürbis & Curry
opens on curry, warm & inviting, then sweetened in pumpkin -> texture turns pulp on the White Chocolate base -> yam
Bizarrely remarkable. A bevy of pumpkin pie spices buoy the curry into a sweet 'n savory dimension. Creative innovation. Only from
G-R
. Successful experiments like this more than compensate for the occasional miss. Put it on the bucket list of the unusual but necessary.
Erdbeere & Joghurt
strawberry gradually bites into milk, then cream & finally the light twang of yoghurt, very cooling as strawberry ice-cream -> elements mesh up a citrus tang along the lines of tart raspberries
So clear & clean. Takes that very British strawberries 'n cream dish & adds probiotics for a refresher. Terrific breakfast bar.
SUCHTI
(Confectionary Line)
Haselnüsse & Limette
-- surprise pair... White Chocolate-covered hazelnuts doused in limes; whodathunk but
G-R
because somehow they either knew or mastered it to work; shockingly good, citrus really wakes up the mates
Mandeln & Chili
-- 70% cocoa-dusted almonds with enough intrinsic fat onboard to quell a slow building chili pepper heat, certainly felt more than tasted & even then nowhere near a burn; consider it an in-chamber roast
Ingwer & Kakao
-- 1st bite all-cocoa followed on hard by dried hot candied ginger; intense / expressive ear-eye-nose-throat clearer
62%
No, cocoa-fiend, not 62% cocoa-content but 62% Hazelnut in this
Haselnuss Creme Gianduja
(the remainder: 27% sugar / 11% cocoa powder). Any parallels to
Nutella
insult the very container of this spread let alone the Gianduja inside it. Yes, the consistency of cream, so much flow, even more so flavor. Rich beyond expectations. This lifts the day; & night too. Drug-like in its side-effects of an elixir-cum-ambrosia. Goes with EVERYTHING. Even better by itself.
Quality 18.2 / 20
Chocolate imagination.
Yeah,
G-R
grinds with the best of the purists when it comes to single origin bars -- the gold standard of premium craft. This label separates from the pack, however, with daring Flavored combos. In league with only a handful of creatives in this regard --
Pump Street
,
Naive
&, of course,
Zotter
among others.
Reviewed April 2, 2019