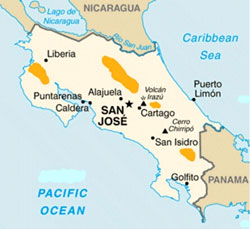 FLAVOR PROFILE: Twang (or depending on processing Fruits & Flowers) as well as Earthen; often identifiable by pronounced olive notes; other accents joining in – tropical fruits, spices (nutmeg / cinnamon), wood, peat.
CHARACTERISTICS: stout & intense with bright, sharp acidic volatiles & refined bitters; good length
Where the Nahua language of the Mexìcâs (Aztec) intersected with Chibcha spoken by the Muisca Confederation which once flourished in the highlands of present-day central Colombia, a wealthy culture so abundant with emeralds & gold the El Rey Indio covered his naked body in gold dust before diving into a lagoon that gave birth to the legend of El Dorado.
Today coffee & fruit are king & queen, but with such rich biodiversity protected by law in the land of 'Pura Vida' – 25% set aside as an environmental sanctuary – cacáo too has room to grow. In its great outdoors, wild Criollo reportedly can be found on the Nicoya penisula out west & in the jungle mountains of Talamanca to the east, the latter within the Meso-American Biological Corridor which comprises the largest remaining tract of contiguous forest in Central America. The territory includes a floodplain surrounded by undulating foothills leading to the high montane whose Atlantic slopes encompass both humid tropical forest & premontane wet forest (Dahlquitst, et. al., 2007).
The rest of the landscape in Coast Rica brings up an Amazon strain imported from Martinique (the so-called 'Martinique Creole', much of it maintained in its original form), having acquired the name Matina – after the Plains on the Atlantic Coast which were once abundant with cacáo that the Spanish settlers reported was the "best of the realm in quantity & quality". Also, in the 1930s the U.S.-based United Fruit Company (since changed to Chiquita in an attempt to whitewash its reputation for malfeasance in the internal politics of countries all over the region, earning them the sobriquet 'Banana Republics') transplanted Ecuadorian cacáo descended from Venezuela & Trinidad; in other words, non-Nacional.
So, unfortunately, not all is perfect in paradise. Factor in too the onset of the fungal disease Monilia in 1978 which wiped out nearly 90% of the country's cacáo trees during the next couples decades. That, in conjunction with better opportunity costs growing bananas & population growth encroaching on cultivated land, means cacáo often stands alone & abandoned here. It all spells trouble for chocolate worldwide since this pattern often repeats itself around the globe.
In response, CATIE (Centro Agronómico Tropical de Investigación y Enseñanza) in Turrialba Costa Rica — home to one of two major int'l genebanks – has been charged with reversing its fortunes.