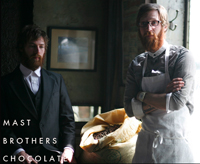 Founded:
2007
Headquarters:
Brooklyn, NY
Style:
started out Old School / Rustic, shifting lately toward retro-American
Characteristics:
emo chocolate; profiles run narrow & deep – thick, dense, plodding, even melancholic – & rough 'round the edges thanks largely to a bold roast of Mast intentions; flavored bars are their happy-place sweet-spot
Ferment:
medium-low
Roast:
what once consisted of dark & robust now nuances the flames
Conche:
rudimentary but thorough (partially attributable to slightly less than perfectly winnowed beans)
Impact:
Home chocolate; low-tech renegades showing the way no matter what the circumstance. Operated out of an apartment crib using crude utensils & kitchen appliances until the move-up to a commercial space early in '09 – a good-looking space with modern amenities to suit — where you may notice, however, that seemingly any employee on the staff for a month or two qualifies to try their hand at the helm. Plus, an over-reliance recently on an inauspicious crop from Madagascar is just a kill-joy. Results from their old home kitchen were actually more convincing.

Ahhh, the price of success: with expansion comes growing pains, & performance then often relates inversely to scale. No worry / no hurry… in due time they've already re-made it up so that 'Masts' stand in short for 'Masters of the Craft'.